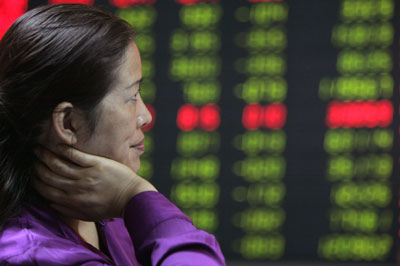 A woman looks at stock prices on an electronic board in Beijing June 5,2007. [Reuters]
China has no plans yet to levy a capital gains tax, reports a major securities newspaper Thursday, citing official sources.
Speculation about a possible capital gains tax following a stamp tax hike sent China's benchmark stock index down more than 20 percent in less than a week.
"Those who think the capital gains tax can be announced anytime, just like the adjustment of the stamp tax, know nothing about the law and the speculation is groundless," said an unidentified official quoted by Shanghai Securities News.
Special coverage:
Stock Market

Video:
China Raises stamp tax

Related readings:
Chinese stocks post slight gains
Stocks rebound in wild fluctuation
Stocks plunge in panic selling
Stocks rebound from sharp fall
Stocks plummet nearly 7 percent
The source went on to say that a State Council rule in 1988 authorizes the government to adjust the stamp duty whenever needed. However, capital gains tax is a new category of duty and the government currently has no legal basis for collection, according to the source.
If regulators want to set up the capital gains tax, they must go through related legislation procedures, from putting forward motions, to getting approval by the country's top legislature, the source noted. "That will take a long time and the process is highly transparent."
"As far as I know, there are no such plans," the source said.
The newspaper also got confirmation from other officials, but did not provide their names or departments.
Capital gains tax, in a general sense, covers not only the stock market, but also the real estate sector, officials said, and so it has widespread economic implications.
"The conditions for collecting the duty are not ripe yet and the tax can in no way be legislated easily," added the official.
In fact, State Administration of Taxation officials have rejected the capital gains tax speculation, but investors would not believe them as the Ministry of Finance denied a stamp tax hike several days before announcing it.
China's stock market became extremely volatile after the stamp duty increase as investors went on panic selling, fearful of further cooling measures, including capital gains tax.
The Shanghai Composite Index tumbled 6.5 percent the day after the duty hike before rebounding slightly on May 31. The index fell again June 1 before plunging 8.3 percent on Monday, the second sharpest fall in a decade. On Tuesday, it plummeted as much as seven percent before picking up gradually to close in positive territory.
Highlighting the extent to which investors' confidence has been affected, the number of new A-share accounts opened on Tuesday hit a two-month low of 162,00, statistics from the China Securities Depositary and Clearing Corporation showed. That compared with a record 385,000 new accounts opened on May 28, the day before the stamp tax hike.