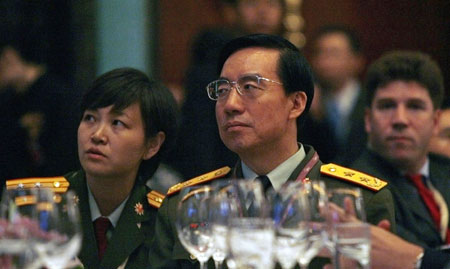 Lieutenant General Zhang Qinsheng (C), deputy chief of staff of the People's Liberation Army (PLA) of China, attends the Keynote Address and Opening Dinner of the Shangri-La Dialogue security conference in Singapore June 1, 2007. [Reuters]


This year's Shangri-La Dialogue saw constructive exchanges among participants as they welcomed China's readiness to discuss security matters with Asia-Pacific countries, analysts said yesterday.

The dialogue is an inter-governmental debate among Asia-Pacific states and major outside powers on key security issues facing the region.

The security forum held in Singapore over the weekend was constructive partly because someone as senior as the Deputy Chief of General Staff, Lieutenant-General Zhang Qinsheng, represented China for the first time, said Liu Jiangyong, a researcher with the Institute of International Studies, under Tsinghua University.

General Zhang assured the gathering of the region's defence ministers that China's strategic intent was purely "defensive", spelling out Beijing's peaceful development strategy and defense policy.

Reflecting the increasingly confident and assertive stance befiting its status as an economic powerhouse, China's openness and transparency China was applauded by the other participants, Liu said.

Most Asian countries do not see China's military build-up or increased defense spending as a threat to regional security. Instead, they see it as the specific response to the cross-Taiwan Straits situation, as expressed by Singapore Prime Minister Lee Hsien Loo, Liu said.

While China displayed openness in its defense policy, the US downplayed concerns over Beijing's military power.

US Secretary of Defense Robert Gates said at the forum that increased dialogue between the two countries, particularly establishing a hotline, would help them prevent misunderstandings and miscalculations.

His remark was in contrast to that of his predecessor, Donald Rumsfeld, who used the forum to question China's motives in increasing its military spending, and urging it to show greater transparency.

Pentagon's conciliatory tone indicated the possibility of better communication between the two countries in defense matters, Liu said.

Gates offered China briefings on the US missile defense system, too, to reassure it that it does not threaten Beijing's nuclear deterrent.

His remarks came a day after General Zhang criticized the defense shields being developed by the US and Japan as a protection against possible missile attacks by the DPRK.

"We would be pleased to sit down with (China) and talk about the capabilities and technical characteristics of this system and its limitation," Gates said.

This constructive approach of the two key players in Asia Pacific "will add to the confidence in the region," Liu said.