Tens of thousands of earthquake victims in southwest China were living in tents or in the open Monday, fearful of returning to their damaged homes a day after a magnitude 6.4 quake killed three and injured at least 300.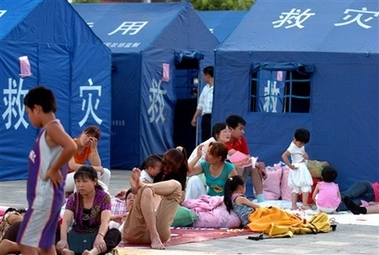 Evacuees, with no tents available, rest outdoor on a square in the Yi Autonomous County of Ning'er of Pu'er City in southwest China's Yunnan Province on Sunday June 3, 2007. A strong earthquake shook southwestern China's Yunnan province early Sunday, killing at least three, injuring hundreds and forcing the evacuation of 120,000 people, state media reported. [AP]
Hundreds of aftershocks sent jittery residents scurrying for safety.
"We worry so much about the aftershocks. This morning we had one, and we hid anyplace we could think of," said Cai Zhongting, who was living with his family in a tent.
The quake struck near China's border with Laos shortly after 5:30 am Sunday, said China's official Xinhua News Agency, citing the government's seismological bureau. The US Geological Survey measured the quake's magnitude at 6.2.
The dead included a 4-year-old boy who was sleeping with his mother when the mud walls of their home collapsed, burying them, Xinhua said. The mother was later rescued.
Xinhua, citing a provincial civil affairs spokesman, said 120,000 people had been forced to leave their homes.
About 20,000 to 30,000 of them were living in tents, some marked "disaster relief," because the earthquake cracked walls in many buildings and made them unsafe to enter, said a man at the Ning'er County Seismological Bureau, who gave only his surname, Ma.
Another official from the seismological bureau, who identified himself by his surname, Ye, said others were living without shelter because of a shortage of tents. He said more tents were being sent from other areas.
Ma said the local government was providing food and water to displaced residents, although Cai said he and his family - his wife, 11-year-old daughter and three grandparents - had to scrounge for supplies themselves in hot, mosquito-infested accommodations.
Some businesses opened Monday, including a branch of the Agricultural Bank of China, which was running on generators and providing food and water to six employees, including Cai, who spoke to The Associated Press from the bank.
More than 300 aftershocks had been recorded by the local seismic bureau, Xinhua reported, including one with a magnitude of 5.1.
Ning'er lies in a quake-prone mountainous region in Yunnan province about 90 miles north of Laos, and is famous for its strong tea, known as Pu'er. For centuries, the area sat astride an important trade route for tea and horses that ran along western China between central Asia and southeastern Asia.
From 2001 to 2006, Yunnan recorded 27 earthquakes with magnitudes of at least 5.0, Xinhua said.
In 1988, a magnitude 7.1 quake in Yunnan near the border with Myanmar killed more than 930 people. More than 15,000 people died after a magnitude 7.7 earthquake in the province in 1970.