It could have been a scene from a Hollywood movie.
Two police officers dressed in white hazmat suits and transparent gas masks threw bags full of heroin, ice and ketamine into a huge cauldron as a group of armed policemen stood guard.
However, this was no movie. To demonstrate its resolve to rid Beijing of drugs before the Olympic Games next year, the city's police bureau yesterday burned 135 kilograms of drugs at the Beijing Cement Plant.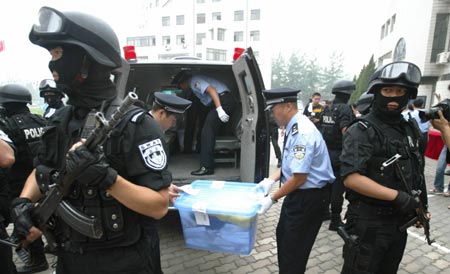 Two policemen carry a box of drugs to be destroyed in Beijing, June 3, 2007. The Chinese capital's anti-drug authorities burned 135.3 kilograms of drugs on Sunday, as an effort and determination to crack down on drugs before the 2008 Beijing Olympic Games. [Xinhua]


The drugs were confiscated in 2004 and 2005 in Beijing and had been kept in storage at various police departments. Apart from heroin, ice and ketamine, the haul also included marijuana, opium and amphetamine-type stimulants. Two groups of special police, each consisting of about 10 officers, participated in the display.
Ma Zhenchuan, head of the city's police bureau, said the demonstration was timed to coincide with a mass opium incineration in Humen, South China, 168 years ago.
"On this day in 1839, our national hero Lin Zexu destroyed 1.19 million kg of opium at Humen Beach to show the country's resolve to fight against foreign-smuggled opium," he said.
"Today, we're also here burning drugs to show our strong determination to combat drugs in the city."
Ma said the anti-drugs war had achieved great success since it started in June 2005.
By the end of last year, all entertainment venues in Beijing were proclaimed to be free of drugs.
This year, police have shifted their attention to cracking down on drug-related activities in public places and near the country's borders.
Official figures show that police in the city have cracked 542 drug-related crimes and seized 614 suspects and 60 kilograms of drugs this year, up 11 percent, 9 percent and 25 percent respectively over the same period of last year.
Zhao Wenzhong, head of the bureau's anti-drug department, said the next step would be to eradicate three underground drug trading markets, two in south Beijing, and one in northern part of the city.
Among the measures to be taken are crackdowns on organized drug gangs, the demolition of unauthorized structures and the better management of migrant populations.
More Labrador dogs will be deployed at airports, railway stations and long-distance bus stations to detect drugs as well.
(China Daily 06/04/2007 page3)