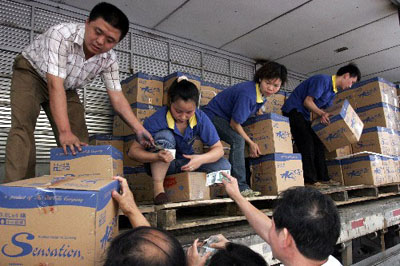 Major supermarket chains have transported emergent supply of bottled water from neighboring cities to the eastern Chinese city of Wuxi in Jiangsu Province to relieve the severe water shortage. Local citizens are buying the bottled water on May 31, 2007. [Xinhua]


China has stepped up the diversion of the Yangtze River to dilute water polluted by blue-green algae in a lake that provides drinking water for millions of people in the eastern Chinese city of Wuxi, Jiangsu Province.

Water from the nation's longest river is flowing into Taihu lake at a rate of 150 cubic meters per second, up from the earlier 127 cubic meters per second, and the lake has received a total of 190 million cubic meters of Yangtze water since May 11, said the Taihu Valley Administration under the Water Resources Ministry on Thursday.

Wuxi, an economically dynamic city that administers six districts in the city proper and two other small cities in the outer areas, has a total population of 4.57 million and 2.32 million are in the city districts.

The affected population is mostly in the city districts, accounting for 80 percent of the total, according to the local government.

The Taihu Valley Administration said Thursday that the water supply from the Xidong Tap Water Company, which supplies 20 percent of the downtown urban population, was not affected.

But the water supply from the Xiaowanli Tap Water Company in Wuxi has not resumed after supply was halted on May 22 when the Taihu Lake started to stink with a blue-green algae bloom.

Citizens are complaining that the tap water is so putrid that they can not wash with it.

"The tap water stinks and has a yellowish color, the whole family has not taken a shower for two days," said Shi Xiuying, a resident of Nanchang District.

The water level in three old wells in Shi's neighborhood is dropping quickly as residents rush to stock up.

A large algae-choked area was visible near Nanquan, a major water plant for Wuxi Tap Water Supply Company, where some workers were trying to remove the algae on Thursday.

"The water quality is far beyond the limits of drinking water treatment. It should be treated in sewage plants," said Zhou Liusong, a worker at the Nanquan Water Plant.

The pollution had resulted in panic buying of bottled water and bread in Wuxi, which had prompted the price of an 18-liter bottle of water sold by street peddlers to rise from eight yuan to 50 yuan by Wednesday night.

A downtown Walmart outlet strictly rationed sales of 500 milliliter bottles of water to a 24-bottle box per person.

"Bottled water is now sold out and we are transferring 1,000 boxes from nearby cities," said Shangguan Xiaoling, a member of Walmart's staff, on Thursday.

"It is hard to say when the algae outbreak will clear, and we are taking measures to reduce the impact," said Zhu Zhongxian, vice secretary-general of the Wuxi municipal government, at a press conference on Thursday.

In addition to diverting the Yangtze River water, the city government is planning to artificially induce rain in the coming days to dilute the polluted lake water.

The Wuxi Tap Water Supply Company is also pumping a large amount of active carbon and potassium permanganate into the lake in an attempt to purify the water.

Local authorities are closely monitoring supplies of bottled water in 10 supermarkets and have allocated more bottled water from neighboring cities of Suzhou, Changzhou, Nanjing and Shanghai.

The city's pricing bureau issued a circular on Wednesday to ban water price hikes. Vendors who deliberately drive up water prices may face fines of up to 300,000 yuan (39,200 U.S. dollars), it said.

The local environmental agency is monitoring the water quality around the clock.

Suzhou, a city neighboring Wuxi, was not affected even though it also takes a domestic waster supply from Taihu Lake because the parts of the lake that provided drinking water for the city were not polluted, said Xia Jian, deputy director of the Suzhou Municipal Water Resources Bureau.

Shanghai, about 128 km southeast of Wuxi, was not affected, either, because it mainly uses the Huangpu River for drinking water, which did not suffer the algae outbreak, according to local water authorities.

Blue-green algae is a form of aquatic plant that occurs naturally in rivers, lakes, damp soil, tree trunks, hot springs and snow.

"Bloom" is the common term used to describe an increase in the number of algal cells to a point where they discolor the water, form scum, produce unpleasant tastes and odors, affect shellfish and fish populations or otherwise create a nuisance and seriously reduce water quality.

Initial investigations show the water level of Taihu Lake is at its lowest in 50 years this summer due to continuous high temperatures and lack of rainfall, which have led to an excess of nutrients in the water.

Taihu Lake is a scenic attraction famous for its aquatic life, including whitebait, shrimps, lily and water chestnuts. But today the lake is a malodorous shadow of its former self as a result of pollution.

Qin Boqiang, research fellow of the Nanjing Institute of Geography and Lakes Studies under the Chinese Academy of Sciences, said that pollution from industry, agriculture and domestic waste also caused an excess of nutrients in the water of the Taihu Lake.

"The algae crisis is teaching us a serious lesson, and we must earnestly solve pollution problems that are threatening the lake," he said.