Excited and emboldened by the wealth of information they find on the Internet, Chinese teens are breaking centuries of tradition to challenge their teachers and express their own opinions in class.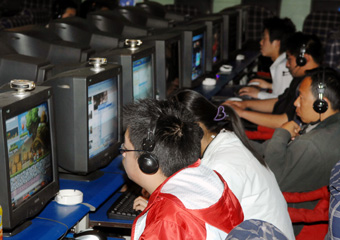 It is common ot see that nowadays young netizens have surfing online in China .In 1999 there were just four million Internet connections in China; by the end of last year there were 137 million.[Xinhua]


Wearing jerseys emblazoned with the names of European soccer stars, downloading weekly episodes of "Prison Break," listening to 50 Cent, and reading Japanese comic books, China's current high school generation is plugging itself directly into international culture.

And it's giving the kids ideas. Ideas that could one day transform the way this country is governed.

"The Internet has given Chinese children wings," says Sun Yunxiao, vice president of the China Youth and Children Research Center.

Many are using those wings to fly in the face of received wisdom about how and what they should learn, and about how much respect they owe to authority. "Today students ask you, 'Why?' And if you don't have a good answer, they won't necessarily accept what you say," says Zhao Hongxia, a young teacher at a private school in Beijing. "In my day, if the teacher said something he was always right."

The "post-90" generation of Chinese youngsters, named for the year the eldest of them was born, is "very different" from its predecessors, says Tony Hu, a Beijing high school student who has just turned 18. "We have far more ways to get information," he explains. "The generation before us knew nothing about anything except studying."

That judgment may be a little harsh, but Mr. Sun, whose research institute is linked to China's Communist Youth League, agrees with its essence.

"The post-90 kids are more confident and have more experience, and they are definitely braver and readier to challenge" their elders, he says. "The reason is that they have the Internet as a way to learn things, and because a lot more of them travel. They have more ways of acquiring knowledge."

137 million online in China

Internet use in China has exploded in recent years, and at the forefront of that revolution have been young people, hungry for a taste of life outside their country's borders. In 1999 there were just four million Internet connections in China; by the end of last year there were 137 million.

More than 70 percent of Chinese children between ages 7 and 15 had used the Internet at least once, according to a survey Sun's center carried out last year. That was nearly half as many again as the 2005 figure, and the total rose to 87 percent when only urban youngsters were polled. More than half of town-dwelling children today live in homes with an Internet connection.

That gives them opportunities to broaden their minds that teachers often cannot match. "I learned from books," says Jenny Li, who now trains teachers at a Beijing college. "These kids learn from the whole world."

That makes them more difficult to teach, says Ms. Zhao. "It's harder for me to keep their attention in class," she complains, "because they already know a lot. Teachers have to keep broadening their own horizons."

If Zhao, who has been teaching for six years, finds it hard to keep up with her students, older teachers are often baffled. "A lot of teachers over 40 feel uneasy and uncomfortable with the new knowledge their students have, and their lack of control," says Yan Ming, a young teacher at the elite No. 1 Middle School in the port city of Tianjin.

| | | |
| --- | --- | --- |
| 1 | 2 | |