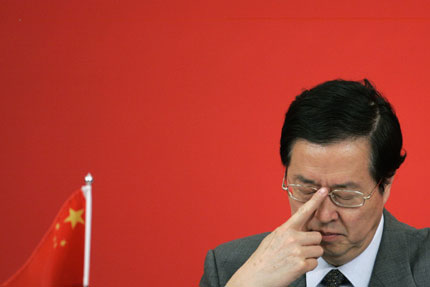 Governor of People's Bank of China Zhou Xiaochuan attends the closing session of the Board of Governors of the African Development Bank Group held in Shanghai May 17, 2007. The central bank announced Friday to raise the deposit and lending rates from May 19. [Reuters]


China will raise the one-year deposit and loan interest rates by 0.27 and 0.18 percentage points, respectively, to 3.06 and 6.57 percent as of May 19, the central bank of China announced on Friday.

The People's Bank of China will also raise banks' reserve requirement ratio by 0.5 percentage points to 11.5 percent,effective on June 5.

China will continue to use monetary instruments to maintain macro-economic stability, the governor of the central bank said at a press conference on Thursday. Zhou Xiaochuan said China may also consider other instruments to maintain macro-economic stability in the country.

Zhou noted that China's macro-economic stability is very important both for the nation and for its impact on the world economy.

The People's Bank of China has raised interest rates four times since April 27, 2006. In March 2007, China's central bank raised the interest rate by 0.27 percent.

It has raised the bank reserve ratio eight times over the past year, each time by 0.5 percentage point. It stood at 7.5 percent of deposits before the first increase last June. The last increase was on April 16.

But the tightening policies have largely failed to prevent the economy from becoming overheated. The gross domestic product grew 11.1 percent in the first quarter of the year, compared to last year at 10.7 percent, statistics showed.

Total value of the Chinese stocks hit 17.43 trillion yuan (US$2.27 trillion) yesterday and has likely surpassed the total in household deposits, as money continues to flow out of banks and into the stock market.

In April, total household renminbi deposits dropped to 17.37 trillion, a decrease of 167.4 billion yuan (US$21.7 billion) compared with March. Household deposits may drop further in May as investors are rushing to withdraw money from savings accounts and pump them into the stock market, the Shanghai Securities News reported.