Construction of Airbus' first aircraft final assembly line outside Europe kicked off in Tianjin yesterday.
The factory, which will start assembling the popular A320 family jet next summer, will be operated by a joint venture to be launched next month. It will be 51 percent controlled by Airbus. A consortium of Chinese enterprises, including China Aviation Industry Corp (AVIC) I and AVIC II, will hold the remaining shares.
Related readings:


Barron's guide to Airbus' China plan
Airbus sold its first plane to China in 1985, while Boeing had a 13-year head start. But the European company has steadily ramped up its fleet in China, with its market share increasing from 7 percent in 1995 to 35 percent at the end of last year.

The plant is expected to deliver the first A320 in the first half of 2009 and be able to assemble four jets per month in 2011.

"I believe this project will not only enhance the further development of the aviation industries of China and the European Union, but also help promote Sino-EU economic and trade cooperation. It provides a win-win result and represents a new achievement of the China-EU strategic partnership," State Councilor Tang Jiaxuan said at the groundbreaking ceremony.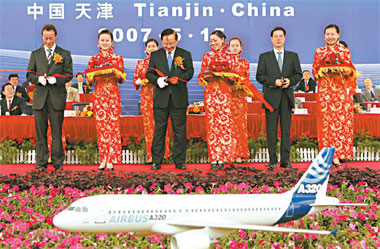 From left, Fabrice Bregier, Airbus chief operating officer, State Councilor Tang Jiaxuan and Tianjin Party Secretary Zhang Gaoli cut the ribbon at a ceremony marking the start of construction of an Airbus assembly plant near the North China port city of Tianjin yesterday. The Airbus A320 assembly line - its first plane factory outside of Europe - in the Tianjin Binhai New Area is expected to start operating in August next year and have an annual capacity of 44 aircraft by 2011. [AFP]

The project, occupying about 600,000 sq m of land, includes assembly workshops, a paint shop and outdoor facilities. An aircraft delivery center wholly owned by Airbus will also be constructed. The main body of the factory will be completed by the end of this year.

"The new top management of Airbus fully backs this very important development of our presence in this country. We are determined to do everything in our power to ensure the aircraft assembled in Tianjin will be delivered on time and to the same quality standards as those delivered in Toulouse, France, and Hamburg, Germany," said Fabrice Bregier, Airbus chief operating officer (COO). Bregier became Airbus COO last November, shortly after the appointment of new Airbus president and CEO Louis Gallois.

The Tianjin project is a strategic part of Airbus' plans to ramp up production of A320s from 32 jets per month to 36 by the end of next year to meet the strong demand for the aircraft.

The single-aisle A320 family aircraft is the company's most successful model. It has received more than 5,000 orders and has a backlog of over 2,000 jets. China has more than 370 A320 family jets on order and now operates over 270, accounting for more than 80 percent of Airbus' total fleet in the country.

Airbus declined to specify the total investment in the project. It was reported earlier that it would cost 8 billion to 10 billion yuan.

The factory, located in the Tianjin Binhai New Area, is 30 km from the Tianjin Port and 13 km southeast of the northern coast city's downtown.

(China Daily 05/16/2007 page3)