BEIJING -- At the age of 12, Zhuzhu seems to have everything a child could dream for -- plenty of toys, beautiful clothes and even a piano.

Zhuzhu however, has little time to play, with a mountain of homework to do.

Like most other Chinese children her age, Zhuzhu has to go to school from Monday to Friday, nine hours a day -- an hour more than her parents spend at work. Come the weekend, her mum and dad indulge themselves in a lengthy lie-in -- Zhuzhu however, isn't so lucky.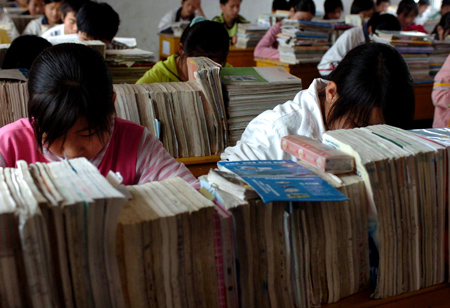 Students bury their heads into the mountain of text books at a middle school classroom in a village in Jinzhai County, east China's Anhui Province, May 11, 2007. [Xinhua]


Unlike her parents, she has to get up early for piano lessons on Saturday and Sunday morning, followed by private extracurricular Maths and English classes the afternoon. As a reward for her hard work, Zhuzhu's parents let her play with her toys for one hour on Saturday and Sunday evening.
"She will have plenty of time to play after she enters university," said Zhuzhu's 42 year-old mum An Hui, a department manager of a PR company in Beijing.
Zhuzhu is not alone. According to a new survey conducted by the Chinese Youth and Children Research Center (CYCRC), increasing numbers of children in large cities across the country are experiencing joyless childhoods.
The CYCRC surveyed 2,500 primary and secondary school pupils across the country in Beijing, Shanghai, Guangzhou, Changchun, Chengdu and Lanzhou. The results of the survey reveal how, due to long school hours and growing pressure from parents to study hard, children are feeling unhappy about a lack of playtime.
On average, China's children spend 8.6 hours a day at school, with some spending 12 hours a day in the classroom. The survey also claimed that the majority of children spend longer hours at school than their parents spend at work.
Almost all of the students involved in the survey said they had to do homework, revise and prepare for classes after school. Around half of the students' parents testified that they often don't allow them to play outside as it means less study time.
The CYCRC survey also reveals that when they do have spare time for play, many children are either too tired to play or have nobody to play with -- only 4 in 10 of the survey's participants claim they had friends to play with.
Indeed, Sun Yunxiao, director of the CYCRC noted that heavy study loads have exhausted children, more than half of the survey's participants said that what they want most is, "A good night's sleep."
Chinese students are put under ever-increasing pressure by their parents to study hard due to the country's highly competitive market for university places and jobs. Study pressure has led to an increase in stress, psychological problems and even tragedy.
Last June, a 16 year-old girl from Chengdu, Sichuan Province, committed suicide after failing to pass the entrance exam for a respected senior high school.
In spite of persistent requests from the Ministry of Education asking parents to stop enrolling their children in extracurricular courses and requesting schools to limit homework time to one hour a night, primary and secondary schools have continued to offer after school Maths and English classes, with the sole aim of sending more students to good universities.
"Too many students are striving for the limited places in higher education resources may be a reason for schools' flout to the circulars," said Sun Yunxiao.
As for Zhuzhu, her mother, An Hui, knows full well that her daughter doesn't get enough sleep or playtime, "We have no other choice," she said, "if she gives up now and doesn't study hard, she will regret it as her future will be lost. She will complain to us more then."
"This is the reality of China," An sighed.