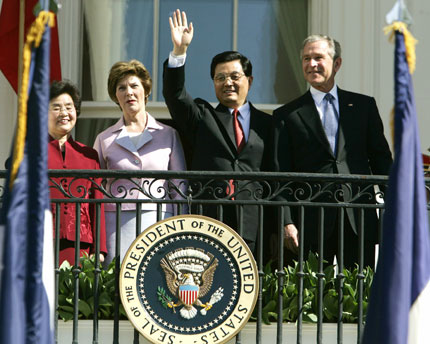 U.S. President George W. Bush (R) and first lady Laura Bush (2nd L) gather on the South Portico of the White House with China's President Hu Jintao (2nd R) and his wife Liu Yongqing at a welcoming ceremony in Washington, April 20, 2006. [Reuters]



Chinese President Hu Jintao and US President George W. Bush on Wednesday discussed an upcoming visit to Washington by a senior Chinese official aimed at bridging trade differences.
Special coverage:
China-US Trade

Related Reading:
China to buy $4.3bn in US technology
A delegation of Chinese business leaders committed to buying US$4.3 billion in US technology, hoping to ease a friction to the trade imbalance between the two countries.

Related Stories:
China's trade surplus large but slowing in '07
Paulson: Wu Yi is 'force of nature'
China to become world's 2nd largest traderAmCham: Trade gap not the full picture
Key figures:
43%: 43% rise in 2007 trade surplus
Tenfold: Surplus soars tenfold
US Treasury Secretary Henry Paulson and Chinese Vice Premier Wu Yi are to hold trade talks in Washington May 22-24.

White House spokesman Gordon Johndroe said Bush phoned Hu from Air Force One as he traveled to Kansas to view a tornado-stricken town.

"The president welcomes the visit to Washington of Vice Premier Wu Yi and her delegation later this month aimed at deepening our economic ties in a mutually beneficial fashion," Johndroe said.

President Hu stressed that China and the US can properly settle problems arising from bilateral economic and trade cooperation through frank and sincere dialogue.

Hu said he believes that with concerted efforts by both sides, positive achievements will be scored in the upcoming second round of strategic economic dialogue between the two countries, which will contribute to giving fresh impetus to China-US economic and trade cooperation.

According to Chinese statistics, China's trade surplus with the United States widened to a record $144 billion last year, sparking concern in the United States and triggering a number of disputes between the two countries.

On bilateral relations, both Hu and Bush considered that China-US relations have been kept in a momentum of favorable development and that the two sides should beef up dialogue and cooperation, to promote healthy and stable progress of the constructive and cooperative relations between the two countries.

The two leaders also agreed on the need for North Korea to meet its nuclear obligations, Johndroe said.

The two presidents will meet in Germany next month during the summit of the Group of Eight countries.



| | | |
| --- | --- | --- |
| 1 | 2 | |