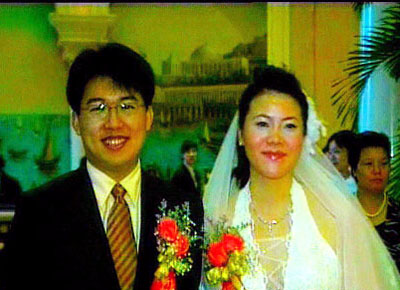 Yang Huiyan (right), the richest person on the Chinese mainland, and her husband pose for a photo during their wedding ceremony in Shunde, South China's Guangdong Province, in this undated photo. [www.gouzai.cn]


Yang Huiyan, who became the richest person on the Chinese mainland after the IPO of her family's company a few days ago, is already a married woman.
A set of Yang's wedding photos were spread over the Internet, revealing the face of the female tycoon to the public for the first time.
An insider told the Southern Metropolis Weekly the wedding ceremony was held at the end of last year in Shunde, South China's Guangdong Province where the Yang family's businesses began. The then 24-year-old bride smiled beside her unnamed groom in the pictures. He is to have graduated from Tsinghua University and studied in the United States.
According to a guest at the wedding, the newlyweds started their romance on a blind date. The guest added the father of the bridegroom is a senior official of a northeastern province, which pleased Yang's father.
She is the second daughter of farmer-turned-developer Yang Guoqiang, who had for years planted rice, tended cows and mixed cement before founding Country Garden in 1997. Now the entrepreneur is managing a number of businesses such as property development and running hotels.
He followed Hong Kong tycoon Li Ka-shing in cultivating his children to follow in his business footsteps. He brought his daughter to the board meeting when she was a middle school student, and sent her to an American university to prepare her to take over his company.
He handed over 70 percent of Country Garden company's shares to his daughter's company, before the IPO. And when it was listed on the Hong Kong Stock Exchange, her wealth shot up to HK$69.21 billion. This newly-found wealth helped Yang surpass the "Queen of Wastepaper" Zhang Yin as the wealthiest person on the Chinese mainland.