Premier Wen Jiabao pledged Friday to help clean China's air and water and combat global warming by phasing out tax breaks and discounts on land and electricity for highly polluting industries.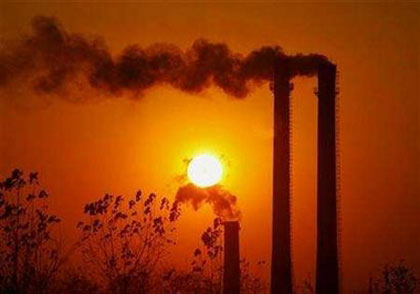 Smoke spews from chimneys of an oil refinery in Nanjing, east China's Jiangsu province, December 28, 2006. [Newsphoto]


"More work on energy conservation and emissions reduction is urgently required to deal with global climate change," Wen said. "Our country is a major coal producer and consumer, and reducing polluting emissions is a responsibility we should bear."
"The challenge of reducing energy consumption and greenhouse gas emissions has proved arduous as China's economy grew 11.1 percent in the first quarter but power consumption surged 14.9 percent," said Wen.

China accounted for 15 percent of the world's greenhouse gases in 2000, second to the United States' 21 percent. The country's fast economic boom has left waterways and coastlines polluted by industrial and farm chemicals and domestic sewage.
"We must clearly recognize that the situation the nation faces regarding energy conservation and emissions reduction is still quite grim," Wen said at a meeting of other top government leaders, in a speech posted on the government Web site.
He noted that China has failed to meet earlier goals to reduce emissions and conserve energy.
The Chinese government has set a target of reducing energy consumption for every 10,000 yuan (US$1,298) of GDP by 20 percent by 2010, while pollutant discharge should drop by 10 percent.
But energy consumption fell only 1.23 percent last year, well short of the annual goal of four percent. Instead, energy use fell by only 1.2 percent. Sulfur dioxide and other polluting emissions, meanwhile, are supposed to fall by 10 percent by 2010, but last year they rose slightly.
"This is a crucial year for China in its efforts to meet the energy saving and emission reduction target set for the 2006-10 period," said Wen.

In his speech, Wen pointed out that local governments would "clean up and rectify preferential policies that give land and electricity discounts or tax breaks to energy-intensive or highly polluting industries."
"To curb excessive growth of the sectors that consume too much energy and cause serious pollution, China must tighten land use and credit supply and set stricter market access and environmental standards for new projects," said Wen.
Wen also said China should work harder to create a system whereby polluters pay for environmental damage they cause, and enterprises investing in clean energy are rewarded. He also called for continued price reforms on natural gas, heating fuel and water to encourage energy conservation, without giving a timeframe for price increases.
"Without faster restructuring and an efficient method of economic growth, China's natural resources and the environment will not be able to sustain its economic development," said Wen.
"We have no choice but to develop in an economical, clean and safe way," he said.
China is a signatory to the Kyoto Protocol on reducing greenhouse gases, but as a developing nation it is exempt from its mandatory cutbacks.
Consultant Peter Fusaro, of New York's Global Change Associates, said China's clean-up campaign is motivated by the spotlight of the 2008 Olympics, to be held in Beijing, a growing grass-roots environmental movement in China and increasing media attention on China's pollution problem.