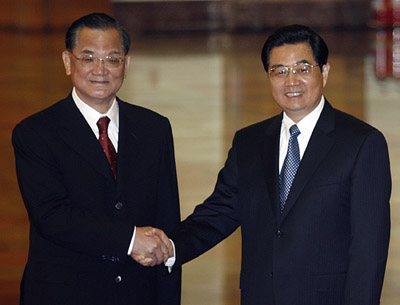 Hu Jintao (R), General secretary of the Communist Party of China shakes hands with Lien Chan, honorary chairman of Kuomintang at the Great Hall of the People in Beijing April 28, 2007. [Reuters]


General Secretary of the Communist Party of China (CPC) Central Committee Hu Jintao and visiting Chinese Kuomintang (KMT) Honorary Chairman Lien Chan underscored peace and development across the Taiwan Straits in their meeting in Beijing Saturday.

"Peace and development should be the theme of cross-Straits relations, and the common goal of the people both in the mainland and Taiwan," Hu said.

Lien said peace was the basis for cross-Strait prosperity and development. Compatriots from both sides of the Straits should face up to the challenges and continue to pursue peace, so as to create economic prosperity on both sides of the Straits.

The mainland is creating a miracle with a growth rate of about 10 percent for 27 years, he noted.

"Peace and prosperity live together, for if there is no peace, there will be no prosperity, and only peace creates opportunities for us to pursue prosperity," he said.

Lien arrived on Thursday leading a KMT delegation to attend a cross-Straits economic and trade forum, which closed on Saturday.

Hu extended warm congratulations on the behalf of the CPC Central Committee for the success of the forum.

"The two-day forum is an important activity for the two parties to continue exchanges and dialog," Hu said.

The mainland announced at the forum a new package of beneficial policies to promote cross-Straits economic and trade relations, and the participants also passed joint proposals for closer economic and trade ties across the Straits.

The 15 new favorable policies announced by the mainland pointed out a new direction for the future cross-Straits economic and trade development, Lien told Hu.

Hu and Lien met for the first time in Beijing a year ago when Lien, then chairman of the Taiwan-based KMT party, had an "ice-breaking" journey to the mainland. It was also the first meeting between top leaders of the CPC and KMT in 60 years.

Hu called for closer personnel, economic and cultural exchanges between the mainland and Taiwan to curb Taiwan secessionist activities and maintain peace across the Taiwan Strait.