Yang Jiechi named new FM, replacing Li Zhaoxing
(Xinhua)
Updated: 2007-04-27 10:41
China's top legislature on Friday approved the cabinet nomination of Yang Jiechi, former ambassador to the United States, as the country's new foreign minister.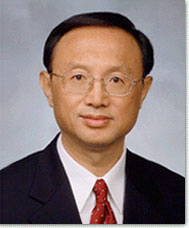 Yang Jiechi

Yang, 57, replaces Li Zhaoxing, 66, who has served as China's top diplomat since 2003.

China's cabinet ministers usually retire at the age of 65. Li, who has been dubbed the "poetic foreign minister" by the Chinese media for his fondness of poetry, enjoyed high public popularity. He is already a year past the customary retirement age.

A veteran diplomat, Yang served in the Chinese embassy in the United States for nearly 13 years over different periods in the 1980s, 1990s and the beginning of this century.

He started his diplomatic career in 1975 in the Foreign Ministry and was appointed vice foreign minister in 1998. In December 2000, he succeeded Li as ambassador to the United States, a post Li had held since 1998.



Shortly after starting work in Washington D.C., Yang worked to ease the tensions between the two countries following a mid-air collision between a U.S. EP-3 spy plane and a Chinese fighter jet off the coast of Hainan Island in the South China Sea.

During his term in the United States till 2004, he was said to be able to tread a fine line in both firmly defending China's national interests and maintaining smooth and stable ties with the United States.

He also won acclaim for his efforts to promote China-U.S. cooperation in fighting terrorism, improving trade ties and enhancing exchanges in law enforcement, military affairs and the Korean Peninsula nuclear issue.

Back in Beijing, Yang was vice foreign minister mainly in charge of diplomacy in the Latin American region and foreign-related affairs involving Hong Kong, Macao and Taiwan.

He was also seen frequently receiving high-ranking U.S. officials in Beijing. Last November, Yang co-chaired the third China-U.S. strategic dialogue in Beijing with U.S. Undersecretary of State Nicholas Burns.

"He is an outstanding diplomat, and an affable and low-profile person," a diplomat close to Yang said.
In the introduction provided to the lawmakers, Yang, a Shanghai native, was described as "down to earth", "dedicated", "prudent" and a man with a "high sense of responsibility".

A fluent English speaker, Yang studied at the London School of Economics and Political Science from 1973 to 1975.

He is also an alternate member of the 16th Central Committee of the Communist Party of China.

| | | |
| --- | --- | --- |
| 1 | 2 | |
Most Commented/Read Stories in 48 Hours