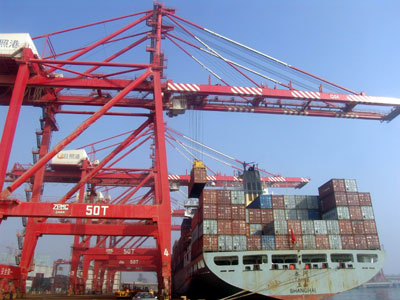 A port in Rizhao, East China's Shandong Province. [newsphoto]
The Chinese mainland has surpassed the United States as Japan's top trading partner despite strained ties between the Asian giants.
Japan's total trade with the Chinese mainland came to 25.43 trillion yen (US$214.8 billion) in the year ended March, against 25.16 trillion yen with the United States, the Japanese finance ministry said in a statement.
"This reflects the gradual shift of production by Japanese firms to China. I think the trend of growing trade with China will continue," said finance ministry official Koichi Nose.
The United States is still Japan's largest export destination but Japanese exports to the Chinese mainland have been growing in recent years, while imports are strong.
Japanese manufacturers have been shifting more of their production operations to the Chinese mainland, seeking cheap labour costs and a foothold in the fast-growing economy.
"For Japan, a very large market has emerged next door," said Senshu University economics professor Hideo Ohashi.
The two economies have strong links through direct investment while the flow of goods has increased sharply, ensuring that trade relations between the two Asian giants are likely to remain strong, he added.
Japan was also Chinese mainland's largest trading partner for 11 consecutive years until 2003 but was then overtaken by the United States and European Union.
Diplomatic relations between the two Asian giants became severely strained in recent years over war-time memories and territorial spats.