BEIJING - Microsoft Chairman Bill Gates and General Motors (GM) Chairman and Chief Executive Rick Wagoner praised China's efforts in IPR protection on Thursday, saying the government had achieved unprecedented progress in this regard.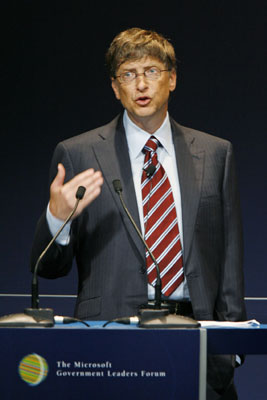 Microsoft Chairman Bill Gates delivers a speech during The Microsoft Global Leaders Forum in Beijing April 19, 2007. [Reuters]


They made the remarks when meeting Chinese Vice Premier Wu Yi.

The two chairmen said they appreciated the innovative measures taken by the Chinese government in IPR protection and vowed to cooperate closely with China.

Wu told them the Chinese government has all along attached great importance to IPR protection, and has made positive efforts in legislation and law enforcement to protect IPR.

Since 2006, China had established IPR service centers in 50 major cities. The Ministry of Information Industry and other relevant ministries have decided that computers imported into China and sold in China must come complete with authorized preloaded operating systems, aiming to attack piracy at its roots.

"China needs IPR protection to develop its economy and enhance its innovation capabilities," Wu said during the meeting, adding her government will continue to step up efforts in this area.

Wu spoke positively of the rapid development of China-US trade relations. The two countries have set up a strategic economic dialogue mechanism, and have become each other's second largest trading partners.

With China's economic growth, the two sides enjoy even greater potential for trade cooperation, the vice premier added.

The successful business operations of Microsoft and GM in China are a demonstration of win-win results in China-US trade cooperation.

The two chairmen vowed to further cement cooperation with Chinese companies and promote bilateral trade ties.

Bill Gates will fly to south China's Hainan Province to attend the Boao Forum of Asia scheduled for April 20-22.