Chinese parents are known for their willingness to do whatever for the happiness of their children, and for Yang Qinji, a 68-year-old father, the case is even more so.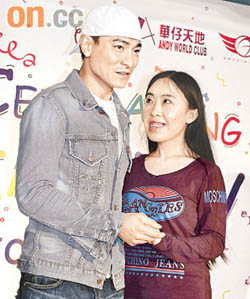 The undated photo show Andy Lau (L) taking a photo with Yang Lijuan, who has been on a 13-year craze for the Hong Kong pop star. [sina.com via Andy Lau's Fans Club]


On March 27, 2007, Yang ended his life by jumping into the Salisbury sea in Hong Kong, one day after he managed to help his 29-year-old daughter meet her icon, Hong Kong pop star Andy Lau, leaving a posthumous letter pleading Lau to meet his daughter for another time, reported sina.com, a leading Chinese web portal.
A 12-year craze for pop singer
Yang Lijuan, the daughter, fell strongly for Lau after having a dream about him - a picture in her room bearing the words "You walk close to me, and we fell in love with each other." She quitted school since then, and turned into a full-time die-hard fan of Andy Lau.
Over the past 12 years, she has, through various means, expressed her admiration for Lau, and attended his concerts or fan meetings whenever possible, paying two trips to Hong Kong and six to Beijing.
Unwilling to see their daughter's heart broken, Yang's parents, especially the father, a retired middle school teacher, have stood by her all these years, trying to meet her demands. In October 2004, the father even accompanied his daughter to attend a Lau's concert at the Workers' Stadium in Beijing.
However, the daughter's craze for Lau also caused huge economic burden to the not-so-rich family.
In 2004, in order to raise money for her daughter's second trip to Hong Kong, the father sold their house, and the family has since lived in a rented house. In 2006, he even considered selling his kidney to pay his daughter's third Hong Kong trip, causing a media outcry.
"We have no choice. We feel our hearts aching to see the child tortured. We only hope things will change after a meet with the icon." the father was quoted as saying during an interview.
In response to the reports, Lau called Yang Li Juan to stop her overdone act. "I hate those unfilial people who are selfish and show little respect and concern for their parents, and I will not care the fans who hope to see me through unhealthy means."
| | | |
| --- | --- | --- |
| 1 | 2 | |