Labor officials in China's southern province of Guangdong said Thursday they are investigating reports that fast-food chains such as McDonald's and KFC pay their part-time workers less than the minimum wage of about US$1 an hour.
McDonald's and Yum Brands Inc. spokesmen in China responded by saying their companies abided by the law but were seeking clarification about regulations for part-time workers, especially for students.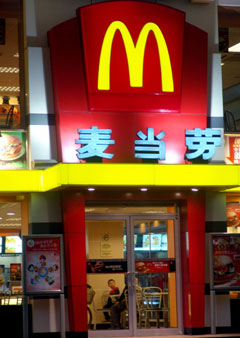 A McDonald's outlet in Shaoyang, Central China's Hunan Province. [newsphoto/file]

A spokesman for the Guangdong Provincial Labor and Social Security Department said officials were looking into reports from workers and local media that staff in the fast-food outlets were being paid up to 40 percent less than the local minimum wage.

"If those foreign companies are actually violating our labor law, they will definitely get punished according to the relevant laws and rules," said the spokesman, who like many Chinese would give only his surname, Zhang.

"I can't comment much since now we don't have the results yet," Zhang said.

The claims first surfaced in a report by the local newspaper New Express Daily, which said its reporters, posing as job applicants, found that McDonald's, KFC and Pizza Hut were paying part-time staff as much as 40 percent less than the minimum wage for Guangdong, which is 97 cents per hour.

The New Express Daily report said McDonald's was paying part-timers only 52 cents an hour, while it said part-timers at KFC earned 61 cents and at Pizza Hut 65 cents.

The report also accused the restaurants of demanding part-time employees work the hours of full-time staff but failing to pay them any full-time staff benefits.

Neither McDonald's nor Yum, which operates both KFC and Pizza Hut, responded directly to the allegations regarding their wage rates.

But McDonald's issued a statement Thursday saying that McDonald's Guangdong Co. was meeting with local labor officials to "clarify our crew source and employee systems now."

"As a fully responsible employer, we always follow the relevant government laws and rules. We offer our employees wages which meets the country's relevant standards," the McDonald's statement said.

Yum Brands issued a statement saying the allegations resulted from confusion over whether the laws pertaining to part-time workers included students, who according to the New Express Daily constitute 70 percent of part-time staff in such fast-food outlets.

"This was caused by a newly introduced regulation. We are working with the government to seek clarification of these laws," it said. "Yum has always strictly adhered to Chinese laws and regulations."

It was unclear if there was some reason why students would be exempt from labor laws. However, labor officials in Guangdong said that as of Jan. 1, the minimum wage applied to both part- and full-time workers.