Beijing's major thoroughfares are choking. According to a report carried by the Xinhua News Agency on January 11, the city had 2.87 million motor vehicles by the end of last year. That figure is set to shoot up to 3.8 million by 2010.
If you live in the Chinese capital, just take a walk along to any busy road (finding one won't be that difficult) during the morning or evening rush hour, and you will see that the city's roads are becoming so clogged that traffic often moves at a snail's pace (if at all).
This situation is worrying from all sorts of angles, the primary concern being environmental.
Fortunately, some important measures have already been taken in Beijing to redress this situation.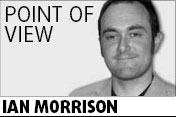 The introduction of a "smart card" electronic debit card system on the city's buses earlier this year has seen fares more than halved. This is part of a massive 1.3 billion yuan ($167 million) that the authorities are providing to improve the quality of public transport in the capital.
In addition to this, a massive expansion of Beijing's subway system is also taking place, with all of the new lines set to be up and running in time for the 2008 Olympics in my view, one of the most important legacies that will be left by the Games to the people of the Chinese capital.
One of the best ways we could guarantee that more people left their cars behind when they wanted to travel in the city would be to implement a more integrated transport policy, ensuring that the authorities responsible for the operation of the buses, subway and railways operate their respective networks in a more coordinated manner.
Simple measures could be introduced, such as through ticketing for the bus and rail/subway systems or park-and-ride schemes - allowing motorists to leave their cars behind and enjoy stress-free travel in the city.
It's also worth considering the introduction of congestion charges in Beijing and other major cities in the mainland that are suffering from growing traffic problems. Such a scheme has been in place in London since 2003.
In London, a daily charge of 8 pounds is levied on all motorists entering, leaving or moving around within the congestion charge zone between 7 am and 6 pm from Monday to Friday. Failure to pay means a fine of at least 50 pounds.
However, an initial investment of 200 million pounds was required to get the scheme up and running, while the annual operating cost is around 115 million pounds.
The measures that have been taken so far are good news, but more is needed to get Beijingers out of their cars - both in terms of carrots and sticks.
(China Daily 03/16/2007 page7)