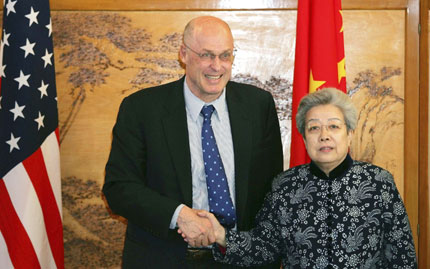 US Treasury Secretary Henry Paulson (L) shakes hands with Chinese Vice Premier Wu Yi during a meeting at Beijing airport March 7, 2007. [Reuters]


US Treasury Secretary Henry Paulson Wednesday afternoon began his third China trip in seven months in preparation for the second round of China-US Strategic Economic Dialogue due to be held in May in Washington.

Upon his arrival, Chinese State Councilor Wu Yi met with Paulson. Wu conveyed Chinese President Hu Jintao's oral message to his US counterpart George W. Bush through Paulson.

Hu said China attaches importance to the Sino-US Strategic Economic Dialogue, and will make efforts to ensure it succeed to deepen the China-US relationship.

Wu and Paulson held close-door talks prior to the official meeting.

After the meeting, Paulson will fly to Shanghai, where he is scheduled to deliver a speech and meet with some businessmen.

China and the United States launched the mechanism of the strategic economic dialogue last September. Wu Yi and Paulson co-chaired the dialogue as the special representatives of the presidents of the two countries.

The dialogue will be held twice a year. The first round of dialogue was held last December in Beijing.

Wu told Paulson that China is ready to make joint efforts with the United States to promote the success of the second round of dialogue, in a bid to enhance strategic mutual trust, realize mutual benefits and win-win results, and promote the all-round development of China-US constructive and cooperative relations.

Paulson said President Bush attaches great importance to US-China strategic economic dialogue and makes it a key task of the Bush administration to advance the dialogue.

Paulson expressed his willingness to closely cooperate with Wu to jointly promote the progress of the dialogue and fully carry out the important consensus reached by the two heads of states, in a bid to make contribution to the development of US-China constructive and cooperative relations.

Before leaving for China, Paulson told reporters that the relationship was very important for the United States and it should not perceive China as an economic enemy.

"I would say that our relationship with China is multifaceted and it's a very important relationship for the US," said Paulson in an interview on ABC, calling for proper handling of the relationship with China "on a long-term basis".