Two years ago, shantytown resident Wang Lisheng didn't think he could move into a new flat. This 78-year-old retiree from a colliery factory realized his dream of better living conditions prior to last year's Spring Festival when he and his wife were granted a 55 square-metre apartment by the local government. His family had lived in an old shantytown house no bigger than 30 square metres for about half a century in Fuxin, the northeast city also known as the "coal capital" of China.
The old couple's children came to see them on New Year's Eve at their clean, warm apartment. In the past, for many this would only have been a dream - too small and cold rooms kept young people away even in the most important Chinese festival for unification.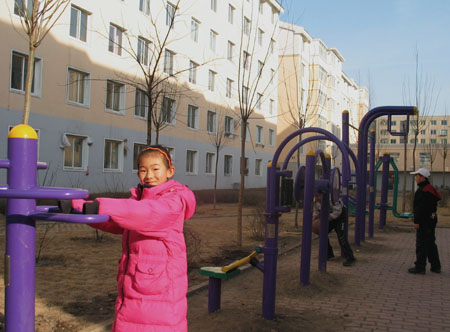 A child plays at an exercise facility in Beishi residential community rebuilt from a shantytown in Tieling, northeast China's Liaoning Province February 7, 2007. [Chinadaily.com.cn]
Over a space of two years, more than a million low-income citizens in Liaoning Province have had the same experience as Wang. In an ambitious scheme to help the poor improve their living conditions, the northeastern province has led the country with a huge shantytown renovation project beginning in 2005.
Liaoning, a former national industrial centre during the early 20th century and for a fairly long period after foundation of the New China, is home to major coal mines and heavy industries vital for the country's economy and development in the past. During Japan's colonization in the three northeastern provinces before and during World War II, when large amounts of mineral resources were transported to Japan, and New China's exploitation, when coal and other minerals from Liaoning fueled factories all over China free of charge, large areas of makeshift work sheds were built for miners and have become home to their offspring in the following decades.
Bone-chilling winters without heat, corroded walls and roofs that threaten to cave in at any moment were all waking nightmares for shantytown residents, some of whom have been injured by falling bricks.
Fifty-nine-year-old Dai Jun has lived in the Xindi shantytown in Fushun city since she was six. "People didn't have guests in shantytowns. Dirty water pooled at the door, and there was no room for a car to turn around in the area where I lived," Dai said. In fact no taxi drivers would drive into the ghetto, as they feared robbery. Crime rates were high in the impoverished area.
Before the massive reconstruction of shantytowns across Liaoning, renovations were progressing very slowly. Large amounts of financing subsidized by the central government were invested into the reorganization of industries in an effort to boost the northeastern heavy industrial base. Real estate developers were disinclined to invest considering the bad locations of shantytowns, which are usually far from the city centre, or very near collieries, fearing the ground may sink into the excavated earth in the future.
Among Liaoning's nearly two million shantytown residents, mostly coalminers and their families, seven out of ten relied on government relief. "Senior citizens, the impoverished and unemployed make up a majority of shantytown residents. They have no money to buy new homes or to move from the shanties," said Liaoning vice-governor Li Ming. Thus the government and social welfare were a last resort for them.