BEIJING -- Beijing had no snow on the eve of the Lunar New Year, but when people woke up in the morning on Sunday, they saw the streets covered by a snow of red scraps of paper left by fireworks.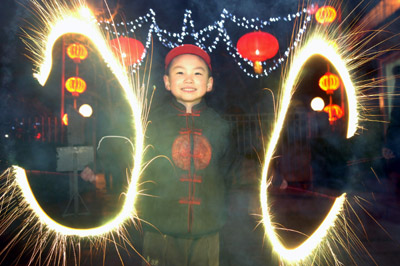 A little child plays fireworks in a street in Beijing on the eve of Chinese lunar new year on Saturday, February 17, 2007. [Xinhua]


It was a sleepless night, when people throughout the country, urban and rural, reveled with firecrackers and the best food and drinks they could prepare, to welcome the Year of the Golden Pig.

Beijing's official statistics show that by the New Year's Eve, more than 380,000 boxes of firecrackers had been sold, compared with 240,000 boxes for the same period last year. This does not include unlicensed sales of cheaper but substandard firecrackers, which is estimated to be more than the authorized figure.

For many Chinese, enjoying fireworks is a traditional way for happiness and celebrations. The festive mood this year is obviously stronger than ever before, and that is justified when considering what a year they've had in 2006 and what they are expecting in 2007.

Liu Hang, a retired worker in Beijing, enjoys telling his investment stories in 2006. In a year's time, he got a return of 110,000 yuan (about US$14,000) from an investment of 50,000 yuan in the stock markets.

China's stock markets in Shanghai and Shenzhen cherished the world's best performance last year, with major indices rising over 130 percent, bringing about profits to almost all investors, including individuals who had been losing money in the market for quite a few years prior to 2006.

Experts comment the stock markets, after rudimental reforms since the second half of 2005, are finally able to reflect the country's economic growth, which recorded a GDP growth of 10.7 percent year-on-year to reach 20.94 trillion yuan in 2006, the fourth straight annual double-digit growth rate for the world's fourth largest economy.

Urban and rural residents enjoyed double-digit growth in per capita disposable income, with urban residents earning 11,759 yuan, up 12.1 percent; while that for rural residents was 3,587 yuan, up 10.2 percent.

Although the income growth of rural residents is moderate, they have greater expectations in the new year, as the Chinese government has vowed to increase investment in rural areas and narrow the economic disparity between rural and urban areas.

Worrying that the economy might go overheated, the Chinese government has adopted a series of tightening measures since the second half of last year, mainly targeting at surging housing prices and investment in repetitive projects.

It has also taken measures to restructure the economy, eyeing to balance international trade and increase domestic consumption.

Even though, the country's economy is still expected to grow robustly in 2007. The World Bank has forecasted that a GDP growth of 9.6 percent is possible for 2007, while many Chinese and foreign analysts held that it will remain above 10 percent.

These forecasts are quite reasonable, considering that the profit growth of China's listed companies was well above 30 percent in 2006, and the strong earnings momentum is expected to continue in the new year.

On February 16, the last trading day before the Year of the Pig, the Shanghai Composite Index surged over the mark of 3000 points and closed at a record high of 2998.47 points, indicating investors' strong confidence in the market.

"There may be drastic fluctuations during the year, but I see no reason for a market crash," said Huang Huanan, a technician with an IT company in Beijing, who has been investing in the stock market since the early 1990s.

"The economy will continue to growth strongly, I'm confident that I'll get a return of at least 30 percent this year," he said.