TOKYO - Japan and China will cooperate closely to ensure that North Korea follows through on its agreement to dismantle its nuclear weapons programs, Japan's prime minister said Friday.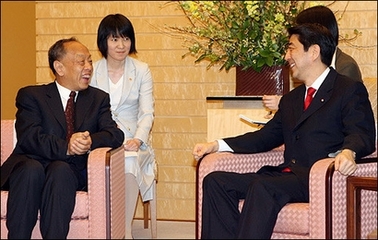 Chinese Foreign Minister Li Zhaoxing (L) meets with Japanese Prime Minister Shinzo Abe in Tokyo. [AFP]
Related readings:


Soybean industry told to enhence competitiveness


Minister in Japan to prepare way for Wen


Japan loses ground in China market


Talks can resolve China-Janpan issues


China vows to boost ties with Japan


China catch up with Japan, S. Korea in curling

In a meeting with Chinese Foreign Minister Li Zhaoxing, Prime Minister Shinzo Abe commended China's efforts in the six-nation North Korea nuclear talks, the Japanese Foreign Ministry said.

"Japan will continue cooperation with China and work hard to ensure North Korea keeps its pledge it made at the six-way talks," Abe told reporters after meeting with Li.

North Korea agreed earlier this week to close its main nuclear complex within 60 days and then disable all its nuclear facilities in exchange for the equivalent of up to 1 million tons of heavy fuel oil and political incentives from the United States and other regional powers.

It was the first time North Korea agreed to take specific disarmament steps since talks began in 2003 between China, Japan, the two Koreas, Russia and the United States.

Also Friday, China strengthened its export controls on nuclear technology in a bid to prevent terrorists from getting hold of nuclear weapons or dangerous radioactive material, the official Xinhua News Agency said. The one-paragraph report gave no additional details.