The charter flights between Chinese mainland and Taiwan for the traditional Spring Festival entered the peak period on Thursday.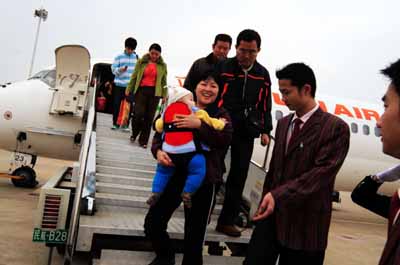 A man shows the way for travelers from Taiwan as they get off a chartered flight at Xiamen Airport in Xiamen, East China's Fujian Province February 15, 2007. [Newsphoto]


There were 18 round-trip flights operated by 12 airline companies between the Chinese mainland and Taiwan on Thursday.

A total of 96 round-trip flights, operated by six mainland and six Taiwanese airlines, are scheduled between Feb. 13 and 16 and from Feb. 23 to 26.

Sources with the Civil Aviation Administration of China said Friday would be the busiest day before the Spring Festival with 21 round-trip charter flights scheduled.

This year's Spring Festival will start on Feb. 18. The first Spring Festival charter flights between Taiwan and the Chinese mainland were launched in 2003.

The charter flights are available in six cities, including Beijing, Shanghai, Guangzhou, Xiamen on the Chinese mainland, and Taipei and Kaohsiung in Taiwan.

Mainland and Taiwanese airlines operated 72 non-stop charter flights during the Spring Festival in 2006, carrying 27,000 passengers. The previous year, 5,877 passengers took Spring Festival charter flights.

Apart from major festivals such as the Spring Festival, there is no direct air service across the Taiwan Straits. All air companies are required by the Taiwan authorities to fly to their target destinations on both sides of the Taiwan Straits via Hong Kong.