China's Foreign Minister Li Zhaoxing arrives in Tokyo for talks with Japanese leaders on Thursday, February 15, 2007. [Photo: Reuters]
Chinese Foreign Minister Li Zhaoxing has arrived in Japan for the highest-level visit by a Chinese official since the two countries began repairing tense relations last year.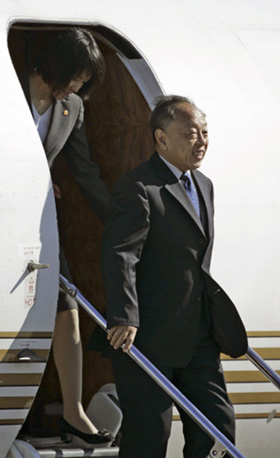 China's Foreign Minister Li Zhaoxing arrives in Tokyo for talks with Japanese leaders February 15, 2007. [Reuters]


Li is set to lay the groundwork for a visit in April by Chinese Premier Wen Jiabao and discuss this week's breakthrough deal on North Korea's nuclear programme, Japanese officials said.
At the start of his three-day visit, Li was set Thursday to meet with Lower House speaker Yohei Kono and the head of New Komeito, a coalition partner of Prime Minister Shinzo Abe's Liberal Democratic Party.
The Chinese foreign minister will meet Abe and his Japanese counterpart Taro Aso on Friday, the Japanese foreign ministry said.
"The prime purpose is to lay the groundwork for a visit by Prime Minister Wen," Japan's Chief Cabinet Secretary Yasuhisa Shiozaki said.
"We would like to do the work in a frank atmosphere so that we can build reciprocal, strategic relations."
Wen will become the first Chinese leader to visit Japan since former premier Zhu Rongji in 2000.
Japan's ties with China and South Korea were badly strained during the 2001-2006 tenure of prime minister Junichiro Koizumi, primarily over his repeated visits to a controversial shrine to war dead.
Abe travelled to Beijing and Seoul days after taking office in late September, setting off a drive to improve relations with Tokyo's neighbours which remain resentful over Japan's militarist past.
Abe, despite a career as a hardliner on emotive history issues, has refrained from saying if he will visit the Yasukuni shrine. He is not known to have gone to the Shinto shrine since taking office.
"In Foreign Minister Li's meeting with Prime Minister Abe, and in discussions with Foreign Minister Aso, the two sides will exchange views on matters of mutual concern," Chinese foreign ministry spokeswoman Jiang Yu said ahead of the trip.
Despite tense political ties, China is Japan's largest trading partner and Japanese business leaders have supported bids to improve relations.
Li's visit came two days after six-nation talks in Beijing resulted in an agreement for North Korea to shut down key nuclear facilities in exchange for oil.
Japan has taken the hardest line in the six-way talks and refused to fund the agreement due to a row with North Korea over its past abductions of Japanese civilians.
While moving closer to a thaw in ties, the two Asian powers are still at odds over a range of disputes, including history-related issues.