Chinese stocks hit a record high Thursday over easing inflation concerns and the return of funds after failing to procure shares in Ping An Insurance's A-share initial public offering.

The benchmark Shanghai Composite Index ended at 87.91 points, or 3.03 per cent higher at 2,993.01. The Shenzhen Composite Index gained 23.71 points, or 3.26 per cent to 750.61. The Shanghai Shenzhen 300 index of major companies jumped 80.29 points, or 3.10 per cent to 2668.63.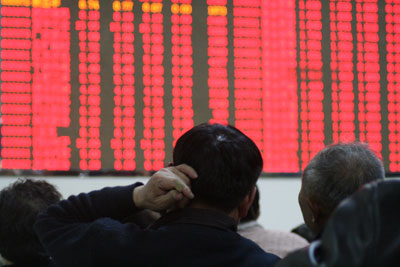 Traders look at stock information at a securities company in Ji'nan, East China's Shandong Province Thursday February 15, 2007. [newsphoto]
The Shanghai index reached an all-time high of 2,994.62 in the afternoon trading before closing at 2,993.01, a record for closing, beating both records set on January 24 when the index ended at 2974.74 after touching 2,994.28.
The rally came after the National Bureau of Statistics Wednesday released the Consumer Price Index (CPI) in January that showed mild growth, alleviating the pressure on the central bank to raise interest rates.
The CPI, a key barometer for inflation, grew by 2.2 percent year on year in January, 0.6 percentage points lower than that its growth over the previous month and lower than the three per cent target of the central bank.
Big caps were boosted by money returned to investors who failed to obtain shares in Ping An's massively oversubscribed offering, which raised 38.87 billion yuan in the second largest-ever IPO on the domestic bourse. The IPO attracted around 1.1 trillion yuan in funds, with shares priced at 33.80 yuan each.
China Life, the country's biggest insurer went up 4.37 per cent to 37.99 yuan. The Bank of China surged four per cent to 4.94 yuan. The Industrial and Commercial Bank of China gained 2.58 per cent to hit 5.17 yuan
The China Petroleum and Chemical Corporation, Asia's biggest refiner, jumped 2.99 per cent to 9.64 yuan. Shanghai Automobile Company Limited jumped the daily limit of 10 per cent to hit 11.66 yuan.
The surge followed news of rocketing earnings of firms listed in the two bourses. The 120 firms that have released their annual report posted an 84.85 per cent growth in net profit over the previous year, according to the Shanghai Securities News.
Analysts expected the Shanghai index to surpass the psychologically important point of 3,000 on Friday before the country's stock market closed between Feb. 17 and Feb. 25 for the Lunar New Year holiday as optimism sweep investors.
In a online survey on sina.com, more than 78 per cent of the investors said they will hold their stocks for the holiday, indicating confidence in further post-festival gains.
The turnover in the Shanghai Stock Exchange hit 86.919 billion yuan, with 10.83 billion shares changing hands. Some 848 million shares were traded in Shenzhen at a turnover of 45.372 billion yuan.
Advancing shares far outnumbered the declining shares by 749 to 29 in Shanghai and 510 to 26 in Shenzhen.