NEW DELHI -- Chinese Foreign Minister Li Zhaoxing met with his Indian counterpart Pranab Mukherjee here Tuesday on implementing plans to deepen strategic partnership between the two countries.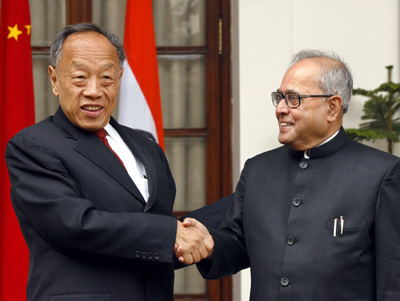 Foreign Minister Li Zhaoxing (L) shakes hands with his Indian counterpart Pranab Mukherjee before their meeting in New Delhi February 13, 2007. Li is on a four-day visit to India. [Reuters]


During the meeting, Li said the Sino-India relations have maintained a favorable momentum of comprehensive development with the successful visit of Chinese President Hu Jintao last November and the recent meeting between Chinese Premier Wen Jiabao and Indian Prime Minister Manmohan Singh at the East Asian Summit in the Philippines.

The two countries have reached the mutual understanding on how to deepen the Sino-India strategic partnership and improve the bilateral ties in the future, he said.

China is willing to work with India on fully implementing the 10-point plan to deepen the Sino-India strategic partnership, which was agreed during President Hu's visit, he said.

On his part, Mukherjee said the development of India-China relations is conducive to both sides as well as the regional and world peace and stability.

With the landmark visit of the Chinese president and the meeting between the Chinese premier and the Indian prime minister, the two countries should realize the mutual understanding as quickly as possible in a bid to push forwards the bilateral ties, he said.

The two foreign ministers also announced the formal start of a hotline between them, which was part of the 10-point plan.

China and India will also open the consulates general in Kolkata, capital of east Indian state West Bengal, and Guangzhou, capital of south China's Guangdong Province, by the end of this year.

Li started his four-day visit to India on Sunday. On Monday, he attended the opening ceremony of the memorial hall for Xuan Zang, a renowned Chinese monk traveling to India 1,300 years ago for Buddhism study, in Nalanda of north Indian state Bihar.

On Wednesday he will kick off the China-India Friendship Year Through Tourism along with Mukherjee and Indian Tourism Minister Ambika Soni and hold talks with Mukherjee and his Russian counterpart Sergei Lavrov.