BEIJING - Nearly 100,000 members of the Communist Party of China were punished last year for corruption, but eradicating graft in the near future remains a huge challenge, according to a senior official.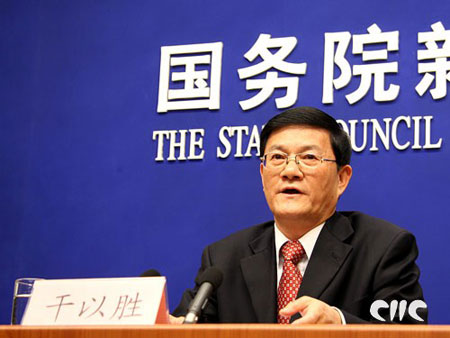 Gan Yisheng, vice secretary of the Central Commission for Discipline Inspection, speaks at a press conference in Beijing Tuesday February 13, 2007. [cnc]


"Solving the problem of corruption in a short time is almost impossible," Gan Yisheng, a senior party discipline and oversight official, told a press conference here.
Of the 97,260 officials who had been disciplined, over 80 percent had failed to carry out duties, taken bribes or violated the party's financial rules, said Gan, vice secretary of the Central Commission for Discipline Inspection.
The punishments extended to prosecution for 3,530 cadres, seven of whom were at or above the level of Cabinet minister or governor of a province.
Gan made little mention of an ongoing corruption case in Shanghai, although it is China's largest graft probe in more than a decade and involves more than 20 senior businessmen and officials, including city party boss Chen Liangyu.
Chen, a member of China's elite Politburo, was sacked in September for his alleged involvement in the misuse of about 400 million dollars of the city's retirement funds for speculative real estate projects.
The investigation, which first began to surface in July last year, is being carried out "smoothly" and the results will be publicised at an "appropriate time," Gan said.
The disciplinary official also insisted that corrupt cadres made up a minuscule percentage -- only 0.14 percent -- of China's nearly 70 million party members.
"The ratio is very low, and it means most of the party cadres are good," he said.
Nevertheless the Chinese government has waged an ongoing battle against corruption, a problem so widespread among its members that President Hu Jintao has warned it is a threat to the ruling party's legitimacy.
Hu and Premier Wen Jiabao have placed corruption at the top of their administration's agenda since officially taking power in early 2003 and have since launched several campaigns to rein in wayward officials.
Several other ranking officials have reportedly been implicated in corruption cases recently, including the former head of the food and drug administration and the state's former top statistician.
Chief of National Bureau of Statistics Qiu Xiaohua, who is accused of bribe-taking and polygamy, is in custody and his trial is expected to begin soon, said Gan.
In a separate case involving Chinese fugitive Lai Changxing, the alleged boss of a multi-billion-dollar smuggling ring, Gan rejected claims he would be sentenced to death or abused if he was repatriated from Canada.
Lai has been fighting to stay in Canada since fleeing China in 1999 and claiming refugee status in 2000. He has argued that he would face persecution and certain death if sent home.
Chinese authorities allege that the former labourer was the mastermind behind a 10-billion-dollar smuggling ring that dealt in luxury goods imported through southeast China's Fujian province and bribed government officials.