Across Liaoning Province in northeast China, people who live in shantytowns are being moved to brand new apartments in a city effort that is expected to benefit over one million people.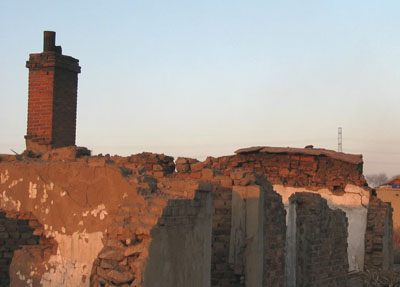 Abandoned shantytown houses in Fuxin, northeast China's Liaoning Province February 6, 2007. [Chinadaily.com.cn]
The two-year shantytown renovation scheme started in 2005, and is aimed at improving people's living conditions as well as the city's environment. According to the policy, shantytown residents are entitled to new homes free of charge the same size as the shacks they left. They can also add extra square meters for a low price.
Fuxin, a city famous for its rich coal and mineral resources in Liaoning, had 300,000 people, or nearly 40 percent of the city's population, living in shantytowns before the renovation.
A large portion of the shantytown buildings were actually makeshift work sheds built for miners when Fuxin started its massive development of the coal mines half a century ago. Mining used to be a vital sector of the national economy during the early period of New China. But until recently, the miners lived in harsh conditions lacking improvement in basic facilities.
Exhaustion of natural resources in recent years has led to the bankruptcy of three major collieries in Fuxin, leaving tens of thousands of miners unemployed and families in worsening economic conditions. Eighty-five percent of those living in the shantytowns were related in some way to the coal mining industry. Either they worked for the coal companies, or they relied on someone who did for their income.
More than 70 percent shantytown dwellers were living under or near the domestic poverty line, local officials said. The shantytown renovations were sluggish as many of them are located in areas that real estate developers viewed as unprofitable, such as the outskirts of the city, or next to coal mines.
In late 2005, Fuxin, the poorest city in Liaoning, launched its biggest ever city renovation project, partially funded by loans and the provincial government.
Until now, more than 2.2 million square meters of shantytown in Fuxin have been dismantled, and new apartment buildings are being erected on these sites, some of which have already been completed.
A group of shantytown residents in Tieling, another city in Liaoning, were the first in the province to move into the new apartments in October 2005. Tieling had 1.6 millions square meters of shantytowns, which were very near to the city centre, making planning and construction of new residential communities easier, with schools and shops already nearby.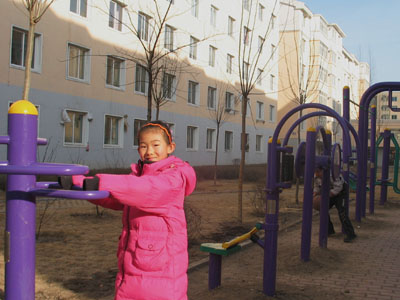 A child plays at an exercise facility in a residential community rebuilt from a shantytown in Tieling, northeast China's Liaoning Province February 7, 2007. [Chinadaily.com.cn]


Residents saw their dreams come true when they moved from the shantytowns without heating, plumbing, paved roads or even clean toilets, into the new apartments, which are equipped with all the necessary residential facilities with medical staff, security guards and property managers working in the community. Heating, gas and electricity fees were slashed to make them more affordable.
Along with the renovations, new employment opportunities were also created for the significant unemployed population of the shantytowns. In Fuxin, nearly 10,000 former shanty residents have found jobs in their own apartment complexes since the first rebuilt community was completed.
Upon completion of the ambitious scheme, a total of 8,48 million square metres of shantytowns will be rebuilt in 11 cities in Liaoning. Local governments see the projects as very important, a way to repay low-income residents and an effort to build a harmonious society.