SHANGHAI - Once considered a symbol of the decadent West, Valentine's Day is becoming big business in newly affluent China.
Nowhere more so than in Shanghai, China's showcase city for the economic reforms of the last three decades, a financial hub which is once more rediscovering its glory pre-World War II days when it was known as the Paris of the East.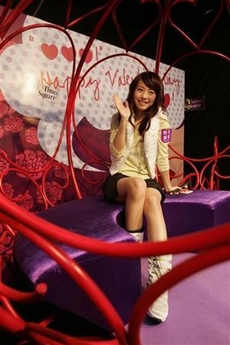 File photo shows Hong Kong singer Stephy Tang posing during a promotion for upcoming Valentine's Day in Hong Kong, February 8, 2007. [Reuters]

This Valentine's Day, Shanghai banker Richard Fan will be buying his wife a 40,000 yuan (US$5,100) Cartier wrist watch.

"I think it's a better gift than some 10,000 or 20,000 yuan meal," said Fan, 37.

"A gift you can use daily looks much more concrete," he added, blithely.

The watch's price tag is 12 times more than the average Chinese farmer earns in a year.

Among Valentine's Day gift ideas on offer in Shanghai is a $1,000 wine-and-dine package that includes limousine transfers, personal butlers and candle-lit dinners at private concerts.

"People who earn more in Shanghai require something different for their special days," said Joan Pan, a manager at the JW Marriott Hotel, situated on the city's fashionable Nanjing Road, home to outlets of Louis Vuitton, Gucci and Chanel.

This year for Valentine's Day, the hotel is offering a 28,888 yuan package, including an overnight stay in either its Chairman's Suite or the Presidential Suite.

Expensive? Not nearly as much as one hotel which last year offered a Valentine package for a staggering 188,888 yuan ($24,000). The night included a romantic cruise on a luxury yacht along the waters of the Huangpu River.

Even some in the industry were shocked by that extravagance.

"It attracted attention for sure, but I'm not sure it gave people a positive impression," said one Shanghai-based hotel manager, who declined to be identified.

STAR-CROSSED LOVERS

Street cleaner, Xiao Hu, earns about 800 yuan a month, a sum barely enough to cover the cost of a Valentine's Day dinner at an exclusive Shanghai restaurant.

She, like a majority of Chinese left behind by the economic boom that has brought wealth to a lucky few, is too busy struggling to make ends meet to celebrate a Western love festival.

| | | |
| --- | --- | --- |
| 1 | 2 | |