ESSEN, Germany - China said on Saturday after G7 talks that it welcomed more international cooperation to address global economic imbalances and that it would continue to promote macroeconomic reform.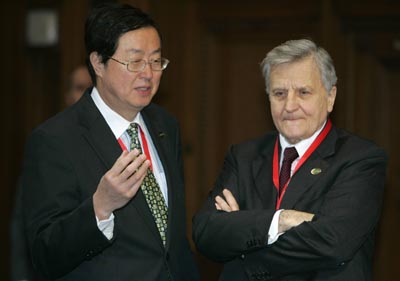 Zhou Xiaochuan (L), Governor of the People's Bank of China talks to Jean-Claude Trichet, President of the European Central Bank (ECB) during the G7 Finance Ministers and Central Bank Governors Meeting in the western German city of Essen February 10, 2007. [Reuters]


"We continue to strengthen macroeconomic adjustments," Finance Minister Jin Renqing said in a statement after the talks in Essen. "We are steadily promoting reform of the financial system."

But China made no mention of its own exchange rate regime, singled out again as requiring greater flexibility and adjustment in the formal communique issued by the finance ministers and central bank governors of the Group of Seven industrialised countries.

"In emerging economies with large and growing current account surpluses, especially China, it is desirable that their effective exchange rates move so that necessary adjustments will occur," the G7 communique said.

China's statement came after weekend meetings in which it was invited to take part in the most substantive talks on global economic issues held by G7 members the United States, Japan, Germany, Britain, France, Italy and Canada.

While the yuan did not make it into China's prepared comments at the meetings' end, central bank governor Zhou Xiaochuan had told reporters on Friday he was satisfied with the evolution of the country's echange rate system.

"According to our plans and our economic ability, we are increasing our yuan exchange rate flexibility, and I think this is now suitable," he said.

China abandoned a decade-old dollar peg in July 2005 and shifted to a managed float against a basket of currencies. The yuan has gained almost 5 percent against the dollar on top of the 2.1 percent revaluation that accompanied the depegging, but the United States and Europe still believe it is undervalued.

Inflation risk

China's G7 statement said high inflation and global economic imbalances were the main risks in an otherwise robust world economy.

"The world's main economies should strengthen their policy dialogue ... in order to lessen the global economic and financial market risks," the statement said.

It also expressed hope that the troubled Doha trade talks could yet come to a successful resolution.

The statement did not refer to China's own inflation risks, which jumped to an annual rate of 2.8 percent in December, the most in almost two years and much higher than market expectations.

But it did say the development of bond markets is a way for emerging markets to avoid over-reliance on bank loans, seen by analysts as one factor pushing consumer prices up in China.

"However, the development of bond markets must be done gradually according to each country's economic situtation," the statement said.