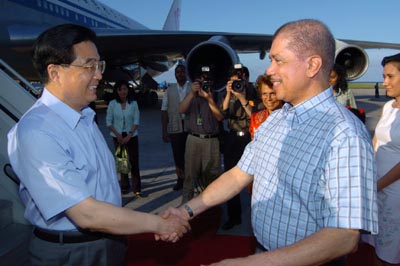 Seychelles President James Michel (R) shakes hands with Chinese President Hu Jintao upon Hu's arrival at Mandarin in the Indian Ocean island of Seychelles February 9, 2007. Picture taken February 9, 2007. [Reuters]


Chinese President Hu Jintao left the Seychellois capital of Victoria for Beijing on Saturday, winding up his eight-nation African tour where he has had remarkable success in enhancing friendship and cooperation between China and African countries.

The tour, which began on Jan. 30 and has taken him to Cameroon, Liberia, Sudan, Zambia, Namibia, South Africa, Mozambique and Seychelles, marks his first Africa trip after the Beijing Summit of the Forum on China-Africa Cooperation (FOCAC) last November, the largest meeting between the two sides since the 1950s.

In Victoria, Hu met his Seychellois counterpart James Alix Michel for talks on expanding the mutually beneficial cooperation between the two nations.

The two countries signed a number of bilateral cooperation documents following the talks.

In Maputo, Hu held talks with Mozambican President Armando Emilio Guebuza. They exchanged views on bilateral relations as well as major global and regional issues of common concern and reached a broad consensus.

Hu proposed that China and Mozambique enhance the exchange of high-level visits and mutual political trust, deepen their economic cooperation, strengthen the cultural and people-to-people interactions and boost their coordination in international affairs.

The two countries issued a joint communique, agreeing to develop a new type of China-Africa strategic partnership, featuring political equality and mutual trust, economic win-win cooperation and cultural exchange.

The two sides signed accords on a partial relief of Mozambique's debts to China, the construction of Mozambique's national stadium and the establishment of an agricultural technology demonstration center in Mozambique, among other things.

In Pretoria, the Chinese president and his South African counterpart Thabo Mbeki held talks and reached a broad consensus on future development of bilateral relations.

Hu put forward a five-point proposal for further promoting China-South Africa ties, including ways of boosting political mutual trust, deepening economic and trade cooperation, expanding the scope of bilateral cooperation, increasing people-to-people contacts and intensifying multilateral cooperation.

China and South Africa agreed to view and develop bilateral ties from a strategic perspective and push forward their strategic partnership, which is based on equality, mutual benefit and common development.

In Windhoek, Hu held talks with Namibian President Hifikepunye Pohamba on bilateral relations, the FOCAC and other major issues of common concern.

Speaking highly of Sino-Namibia friendship and cooperation, the two leaders conducted in-depth discussions on how they could strengthen bilateral cooperation and agreed to push the cooperative ties to a new high.

Pohamba said Hu's visit to Namibia, three months after the FOCAC, demonstrated the importance China attaches to its ties with Namibia and its efforts to fulfill its promises made at the FOCAC.

Hu and Pohamba later witnessed the signing of five documents for cooperation in economic technology, human resources, education and tourism.

The Chinese president finished his visit to Namibia with a joint communique reaffirming commitment to continuing mutual support on issues concerning sovereignty and territorial integrity.

In Lusaka, Hu had talks with his Zambian counterpart Levy Patrick Mwanawasa, discussing ways of enhancing friendship and economic and trade cooperation.

Hu hailed the all-weather friendship between China and Zambia, pledging to remain a good friend, partner and brother to the southern African country.

Following their talks, the two countries signed eight cooperation agreements. The Chinese president also met former Zambian President Kenneth Kaunda, and attended the inauguration ceremony of a Zambia-China economic cooperation zone, the first one to be set up by China in Africa.

Mwanawasa pledged to further improve the investment environment and hoped that more Chinese and foreign enterprises will settle in the zone, bringing along with them know-how and expertise necessary for the development of the zone and all of Zambia.

In Khartoum, President Hu put forward four principles for the concerned parties to observe in the pursuit of a solution to the Darfur issue.

The four principles are to respect Sudan's sovereignty and territorial integrity; to solve the issue by peaceful means and by sticking to dialogue and coordination based on equality; that the African Union and the United Nations should play constructive roles in a peacekeeping mission in Darfur; and to improve the situation in Darfur and living conditions of local people.

During the talks with Sudanese President Omar Hassan Ahmed al-Bashir, Hu said that China appreciated efforts by the Sudanese government, the African Union, the Arab League, the United Nations and countries concerned to solve the Darfur issue, and hoped that the issue could be solved as soon as possible.

Al-Bashir reiterated that Sudan has adhered to the one-China policy and opposed any attempt to separate Taiwan from China. In Monrovia, Hu talked with Liberian President Ellen Johnson-Sirleaf. The two leaders witnessed the signing of seven documents on cooperation in economy, technology, health, education and agriculture, and also attended the inauguration of a malaria prevention and treatment center supported by China.

During the visit there, Hu highlighted the solidarity and cooperation of China with African countries, saying they always serve as a major foundation stone for China's diplomatic work.

Hu said that China will place as a top priority the implementation of the measures within the FOCAC framework and in line with the principles of mutual benefit, friendly consultation, pragmatism and high efficiency

The Liberian president spoke highly of the friendly relationship between the two countries and hoped the development of bilateral ties would result in a win-win situation.

In Yaounde, Hu met his Cameroonian counterpart Paul Biya and other leaders of the central western African country, to exchange views on how to consolidate friendship and deepen bilateral cooperation.

The two sides signed a series of cooperation documents during the visit.

At the start of the trip, the Chinese president said his visit aimed to consolidate the traditional friendship between China and Africa, act on the commitments made at the FOCAC, enlarge substantial cooperation and promote common development.

At the FOCAC, Hu announced eight measures to strengthen China-Africa cooperation, including the establishment of three to five trade and economic cooperation zones in Africa in the next three years, the relief of debts owed by some African countries with diplomatic ties with China, and that 30 hospitals and 30 centers for malaria prevention and treatment would be built in Africa.