MADRID, Spain -- Emerging economies such as China are justified in holding back on fighting greenhouse gas emissions until richer polluters like the United States do more to solve the problem, former U.S. Vice President Al Gore said Wednesday.
Addressing a conference in Madrid on global warming, Gore was asked how industrialized countries that for decades have contributed to global warming can now pressure poorer nations to clean up their industries.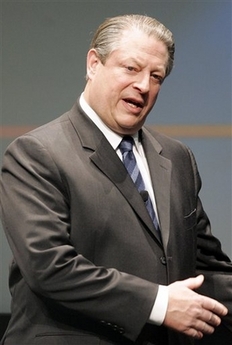 Former U.S. Vice President Al Gore speaks at the start of the Energy and Global Warming conference in Madrid, Tuesday, Feb. 7, 2007. [AP]

Gore said Chinese officials have reacted to the U.N. report issued last week -- warning that global warming was very likely caused by humanity and would last for centuries -- by saying China would act when industrial countries such as the United States and others act.

"They're right in saying that. But we have to act quickly," said Gore, who has been active in environmental issues for decades and was nominated last week for a Nobel peace prize for his work in drawing attention to global warming.

"China's reaction to the scientific report last week was disappointing, but it was instructive," Gore said.

Jiang Yu, a spokeswoman for China's Foreign Ministry, said China was willing to contribute to an international effort to combat global warming but placed the primary responsibility on richer, developed nations that have been polluting for much longer.

"It must be pointed out that climate change has been caused by the long-term historic emissions of developed countries and their high per capita emissions," she said, adding that developed countries have responsibilities for global warming "that cannot be shirked."

China recently ordered a shutdown of dirtier coal-fired power plants that emitted 5.4 million tons of sulfur dioxide a year, said Jiang.

The United States is the world's leading emitter of greenhouse gas and has refused to ratify the 1997 Kyoto Protocol on curbing such emissions because it did not set mandatory emissions limits on developing nations such as China and India. China signed the protocol in 1998.

"The Chinese government is taking climate change extremely seriously," Qin Dahe, chief of the China Meteorological Administration, told reporters at a briefing Tuesday.

| | | |
| --- | --- | --- |
| 1 | 2 | |