A seventh person has died following a shooting at a Chinese restaurant in northern Germany, police said yesterday.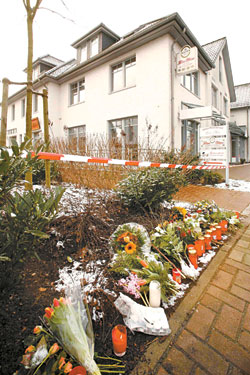 Flowers and candles are placed by residents next to a house in the German town of Sittensen near Hamburg yesterday. Seven people had been shot dead at a Chinese restaurant in northern Germany early on Monday, police said. [Reuters]
The man died from gunshot wounds overnight in a hospital, the day after the bodies of three other men and three women were found at the Lin Yue restaurant in Sittensen.
Autopsies were to be carried out later in the day on the first six victims, said police spokesman Christoph Steinke. The victims' identities have not yet been released.
Police said the husband of an employee at the restaurant found the bodies when he went to pick her up after working late Sunday night. The woman was among the victims.
Some of the bodies were tied up. Sittensen is a town of some 10,000 people south of Hamburg. "We are assuming that they are employees of the restaurant and that the crime happened after closing time," police spokesman Detlev Kaldinski said.
The bodies were spread across several rooms in the restaurant, police said.
Police had not yet identified all the victims and said they had no witnesses other than the man who found the bodies and no tips as to who might have been responsible. There was no immediate word on a possible motive.
The Lin Yue restaurant is located on the second floor of a building that also contains offices. The restaurant had been open since December 1997.