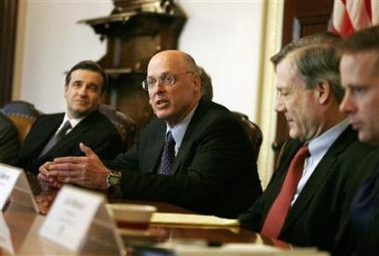 US Treasury Secretary Henry Paulson (C) participates in a roundtable discussion with a group of economists at the Treasury Department in Washington January 29, 2007. [Reuters]


U.S. Treasury Secretary Henry Paulson, defending Washington's approach to China, told a U.S. Senate committee Wednesday that American efforts to persuade China to let its currency rise in value had achieved "some results" but Beijing needed to do more.
Speaking to the Senate Banking, Housing and Urban Affairs Committee, Mr. Paulson said the best way to change China's currency policy and other economic policies was through the strategic economic dialogue that President Bush and President Hu Jintao started last fall.
At the first meeting in December, Paulson said he pressed China on several fronts, particularly on currency, which the United States maintains is being kept low in relation to the dollar to facilitate Chinese exports abroad.
The higher the value of the Chinese currency, or yuan, the more expensive its exports are to consumers in the United States. Some American industries have requested that the Bush administration get China to move to a fully convertible currency rate, while Beijing has said once and again that precipitating the value of yuan at this stage would hurt the economies of not only China, but many others including the United States.
Paulson said that China had moved somewhat at a quicker pace on currency late last year. The yuan is about 6.5 percent higher in value in relation to the dollar than it was a year and a half ago.
"This is welcome progress, but we need to see much more," he said. "Although China is moving faster, it is still not moving fast enough." Some in the U.S. allege that yuan is under-valued by some 15 percent to 30 percent.
U.S. Treasury officials say they hope that China could make enough progress on economic issues to forestall any effort by the Congress to enact penalties in the form of higher tariffs on Chinese exports, which on the one hand could aid U.S. domestic industry, but on the other would hurt middle class U.S. consumers.
Paulson has so far persuaded Congressional critics to hold back on such legislation, giving him time to achieve progress in his dialogues with Beijing. The next strategic discussion is scheduled for May in Washington.

| | | |
| --- | --- | --- |
| 1 | 2 | |