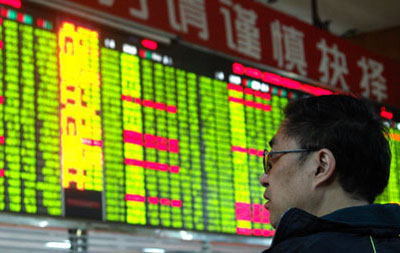 An investor looks at stock information at a securities company in Zhengzhou, Henan Province January 26, 2007. [newsphoto]


SHANGHAI - Chinese shares tumbled nearly 5 percent in their biggest one-day loss in eight months on Wednesday amid mounting worries over high stock valuations.

Analysts said the decline, led by blue chips, likely signaled a respite after weeks of continued record highs.

The Shanghai Composite Index fell 4.9 percent to 2,786.33, its biggest one-day decline since a 5.3 percent tumble on June 7, 2006. The smaller Shenzhen Composite Index slid 5.8 per cent to 655.53.

The Shanghai index fell 0.5 percent on Tuesday.

"Many traders felt a push to cash out, for even blue chips, such as banks, are trading at high valuations," said Hao Guomei, an analyst at Huatai Securities.

The Shanghai index closed at a record 2,975.13 on Jan. 24 before plunging 4 percent the following day.

"The index seems to have peaked last week. It's very unlikely to reach 3,000 in the short term," said Wang Sheng, a strategist at Haitong Securities.

Wednesday's decline followed warnings from the Shanghai Stock Exchange and other regulators over rising risks from the market's recent bull run.

Before Wednesday's tumble, the Shanghai index, which tracks China's biggest companies, was up 9.5 percent for the year after after soaring 134 percent last year. Trading volumes have been at record highs amid growing volatility.

The Shenzhen index, meanwhile, had soared 26.4 percent since the start of the year before Wednesday's drop.

"Twenty percent growth for 15 years in a row would be great. Instead they got 134 percent in one year," said Jonathon Anderson, chief Asia economist for the UBS brokerage in Hong Kong. "China doesn't want an equity bubble."

| | | |
| --- | --- | --- |
| 1 | 2 | |