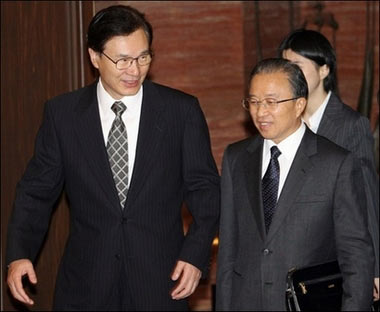 Chinese Vice Foreign Minister Dai Bingguo (R) and Japan's Vice Minister of Foreign Affairs Shotaro Yachi (L) wrapped up three days of closed-door strategic talks over the weekend, vowing to build "mutually beneficial" ties.[AFP/File]

China and Japan vowed to build "strategic, mutually beneficial" ties on Saturday at the conclusion of the seventh round of strategic talks between the two countries' top diplomats in Hangzhou, capital of east China's Zhejiang Province.

Vice-Foreign Minister Dai Bingguo and Japanese Vice-Minister for Foreign Affairs Yachi Shotaro led the two delegations at the meetings, which began in Beijing last Thursday. The two delegations consisted of about 20 Chinese and Japanese officials.

Both Dai and Shotaro said they bore a "heavy responsibility" to promote ties.

During the three-day series of meetings, the two sides discussed building "strategic, mutually beneficial" ties and had "frank" and "in-depth" exchanges of views on how to maintain momentum in improving and developing bilateral ties, according to a statement released by Chinese Foreign Ministry.

"This provides an important opportunity for advancing bilateral ties, and both sides should work for the complete success of the visit and for the long-term, sound and stable progress of bilateral ties," Foreign Minister Li Zhaoxing told Shotaro on Thursday.

Li urged Japan to observe the three China-Japan political documents and to properly resolve "sensitive" issues.

"As participants in the dialogue, both of us are happy about the improvements in bilateral ties," Dai told Shotaro before their closed door meetings began.

Echoing Dai's statements, Shotaro joked that it was the first time that he had smiled while talking with Chinese officials at a strategic dialogue.

"The strategic dialogue played a role in removing political obstacles in bilateral relations and getting relations back on track," Dai said.

This year marks the 35th anniversary of the normalization of diplomatic relations between the two countries.

Premier Wen Jiabao will pay an official visit to Japan in April.

In his policy address to parliament on Friday, Japanese Prime Minister Shinzo Abe vowed to build mutually beneficial ties with China.