SHANGHAI - Jim Rogers, a prominent US fund manager, has fueled concern about a bull run in China's stock market, analysts said, by suggesting in a TV interview this week that stocks may have become overvalued.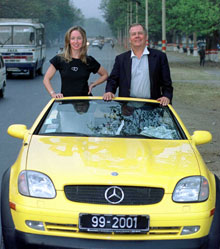 Commodities investment guru Jim Rogers (R) and wife Paige Parker pose in the eastern Indian city of Kolkata in this February 20, 2001 file photo. [Reuters]

Long a prominent China bull, Rogers told China's state-run CCTV in an interview on Wednesday there were signs that the market was overheated and this may not be the best time to buy stocks.

Rogers, who co-founded the Quantum hedge fund with billionaire investor George Soros in the 1970s, was not available for comment.

According to newspaper accounts and a Chinese translation of the interview, which appeared on Chinese Internet portal www.sina.com, Rogers also said shares of the Industrial and Commercial Bank of China were getting expensive.

Chinese banks lag world-class banks in customer services and management, said Rogers, who traveled through China by motorcycle and car in the 1990s researching investment ideas and collecting material for his books.

Chinese stocks fell sharply on Thursday and Friday as investors took profits on financial stocks, spurred by signs that the government might take steps to cool the market, analysts said.

Some analysts said Rogers' comments served as a reminder about the danger that the market may be overheating.

"Rogers was only one of many factors behind the market losses. After all, the market has risen too much, so it is always easy to find an excuse to sell," said a fund manager for a domestic insurance company.

The benchmark Shanghai stock index was down 3 percent at midday on Friday, led by ICBC, which dropped more than 4 percent and was the morning's second most actively traded stock.

The benchmark Composite Index on the Shanghai Stock Exchange closed at 2,882.56 points on Friday, up 25.20 points from the previous close.

The index fell 4 percent on Thursday amid fears that China may raise interest rates to cap inflation.

Pei Xiaoyan, an analyst at China Jianyin Investment Securities, said he believed major financial stocks such as ICBC and China Life were now overvalued, but some market laggards may still have room to rise.