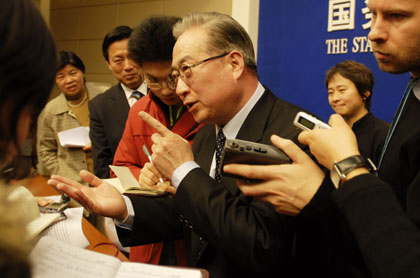 Zhang Weiqing, minister of the National Population and Family Planning Commission, answers questions from journalists after a press conference on family planning in Beijiing January 23, 2007. [newsphoto]


Rich people are not exempt from China's family planning program, which should be followed by all citizens.

That is the warning from Zhang Weiqing, minister of the National Population and Family Planning Commission, in response to media reports that some celebrities are choosing to have more than one child.

"All citizens, rich or poor, are equal before the law," he told a press briefing in Beijing Tuesday, January 23, 2007.

Xinhua News Agency Tuesday quoted a top official with the commission as saying that the social influence of the rich having more children than allowed was "extremely bad".

Those who violate the family planning policy will have to pay the "social cost", said the official, without mentioning specifics. He pledged that the government will adopt measures to make the rich abide by the national family planning policy.

Some people believe they can evade or ignore the policy because they have money, and have a second, or even third, child. For example, former national soccer player Hao Haidong and film director Chen Kaige have two children each.

Normally, a breach of the policy would incur a penalty of at least 50,000 yuan (US$6,200), although the actual amount varies from one region to another. But the fine is a trifling amount for the rich.

According to a newly-released survey, more than 60 percent of Chinese netizens think it is unfair for the rich and famous to have more children than allowed.

The online survey of 7,900 jointly conducted by China Youth Daily and www.qq.com, showed that 68 percent of respondents consider the issue to be a major social problem.

Some well-off people submit forged documents saying their first child suffers from a congenital disease, others "buy" the birth permit for a second child, said netizens.

"How can they violate the national policy just because they have money?" one asked.

Some netizens suggested amending the law, making it a crime to have more children than permitted.

China has had a "one-child" policy since the early 1980s, which has helped reduce the population by 400 million and delayed the arrival of the 1.3-billion population mark by four years.

Zhai Zhenwu, president of Renmin University of China's School of Sociology and Population Studies, said the privileges enjoyed by the rich reflect imperfect family planning regulations and systems, Xinhua reported.

"Fining the violators is one way of controlling the birth rate. But if the rich are not deterred by the penalties, no other method seems to exist," Zhai said.

However, he added that rich people having more children would not have a major effect on the population because their number is small.

China's population, at 1.3 billion in 2005, is expected to expand by 8-10 million annually and is likely to peak at 1.5 billion in 2033.