URUMQI - Police have destroyed a terrorist camp in northwest China's Xinjiang Uygur Autonomous Region and killed 18 terrorists, a spokeswoman said on Monday.

One policeman was killed and another wounded in the gun battle on Friday in the mountains of Pamirs plateau in south Xinjiang, said spokeswoman Ba Yan.

The police captured 17 terrorists and are pursuing a number of others, the spokeswoman said. They also seized 22 hand grenades and more than 1,500 others the terrorists had not finished making.

The training camp was run by the East Turkestan Islamic Movement (ETIM), a group that the United Nations in 2002 labeled a terrorist organization, according to Ba.

It is believed that more than 1,000 ETIM members have been trained by al-Qaeda.

Former head of the terrorist group, Hasan Mahsum, was shot dead by Pakistani troops on October 2, 2003 in a joint anti-terror operation along the border of Pakistan and Afghanistan.

Hasan Mahsum was accused of plotting a series of violent terrorist activities in recent years, including robbery and murder in Urumqi, capital of Xinjiang and murders in Xinjiang's Hotan region, which caused heavy loss of life and property.

'A separatist'

A senior Party official in Xinjiang has denounced Rebiya Kadeer, now living the United States, as a separatist, saying she has no qualifications to be nominated for the 2006 Nobel Peace Prize.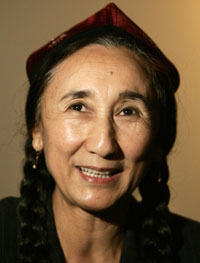 Rebiya Kadeer is pictured in her home in Fairfax, Virginia in this October 13, 2006 photo. [Reuters]

"To call Rebiya (Kadeer) the 'mother of all Uygurs' is absolutely preposterous and ... amounts to defaming an ethnic minority," the China News Service quoted Nuer Baikeli, vice secretary of the Communist Party committee of Xinjiang Uygur Autonomous Region, as telling a meeting on Sunday in Urumqi.

As a mother who could not educate her own children well, Baikeli said, "it is beyond imagination that she could become the 'mother' of the Uygurs with a population of about 10 million."

"The statements of Rebiya clearly show that she wants to destroy the peace and stability of Chinese society, this does not conform with the requirements of the Nobel Peace Prize," Nuer Baikeli said at the meeting of publicity chiefs.

A netizen wrote his comment to the China News Service story, saying if such a person who tries to separate the country and favors violence were nominated for the Nobel Peace Prize, it would be sarcastic to the title of the prize. She is a separatist monster.

56-year-old Rebiya was detained 1999 for endangering the national security. She went to the United States for medical treatment in March 2005 after promising to stay away from any separatist activities.

She was also found to have engaged in trafficking in illegal drugs and engaging in illegal economic activities.

Xinjiang officials also accused her of engaging in activities to try and topple the central government and seeking Xinjiang's independence from China through "violent terrorist activities," the service said.

A netizen questioned the motivation of the United States in his comments at Sina.com.cn, saying the US supports the nomination of a person attempting to overthrow the government for Nobel prize. What an ill motive it harbors!

Rebiya Kadeer was born in 1951 in Xinjiang. She began to run a small business in Urumqi after the opening and reform policies in the late 1970s, and gradually built up her fortunate, said to worth of up to a billion yuan and one of the wealthiest women in Xinjiang.

Investigations found the trade company, registered under her name and her children's names, dodged taxes amounting to more than 8 million yuan from 1994 and 2004.

She was arrested in August 1999 for jeopardizing the national security, and was sentenced to eight years in prison for providing state secrets to overseas organizations.