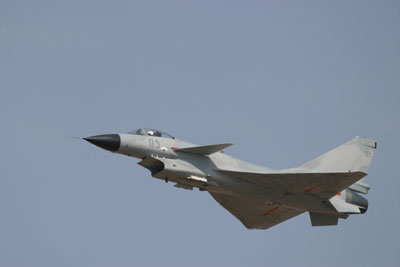 China's indigenous third-generation Jian-10 (Fighter-10) makes its debut in Beijing January 5, 2007. The airplane is manufactured by the China Aviation Industry Corporation I (AVIC I) based on the country's own Intellectual Property Rights. [Xinhua]


Jian-10, China's home-made new generation fighter plane, is the product of the country's push for innovation.

The plane, along with missiles, developed by China Aviation Industry Corp I (AVIC I), will narrow China's technology gap with developed countries.

"China has become the world's fourth country to develop its own advanced fighter planes, engines and missiles," AVIC I Vice-President Geng Ruguang said on Friday.

At a rare press conference held in Beijing, the AVIC I executive said the indigenously developed Jian-10, and the fourth-generation air-to-air missiles had been deployed in the air force.

Apart from the Jian-10, AVIC I has also developed the Taihang turbofan engine, heralding China's third generation military aero-engines, Geng said.

"With the goal of building a creative company, we have vigorously promoted innovation. As a result, a batch of aviation achievements have been made," Geng said.

The press meet followed a brief military announcement on December 29 that the air force of the People's Liberation Army (PLA) had been equipped with the home-made, new-generation Jian-10, or Fighter-10.

The force's "overall battle effectiveness has been noticeably enhanced" with the equipment and through intensive drills and training, and the country's defense capability has improved further.

On Friday, Geng said Jian-10 had a multitude of new technology with multiple uses.

In a five-minute video clip shown to the media, the aircraft was seen flying in formation, firing missiles and refuelling in the air.

The AVIC I-affiliated Chengdu Aircraft Industry Corp in Southwest China's Sichuan Province started developing Jian-10 in 1986.

It has two models, a one-seater and a two-seater, said Yang Wei, chief of Jian-10's designer Chengdu Aircraft Design and Research Institute.

Besides those in Chengdu, at least 100,000 people from across more than 100 factories and institutes were involved in designing and making of Jian-10, said Liu Gaozhuo, former AVIC I president and a chief commander of the fighter aircraft.

"Jian-10 is comparable to the mainstream fighter planes of developed countries," Liu was quoted by the China Aviation News as saying on Friday "With its success we'll have a platform for developing later models of fighter aircraft."

Experts said China was becoming increasingly transparent with its military sector. The State Council Information Office released a White Paper on national defense on December 29, which said the air force was working on an "informationalized" air fighting force both with offensive and defensive capabilities.

Not the best, but still good

The home-grown new generation fighter plane, Jian-10, may not rival the US fourth-generation aircraft in performance, but its basic design and onboard equipment are comparable to those of Western mainstream fighter aircraft, military observers said.

Jian-10 will help the Chinese Air Force improve its defense capabilities and expedite weapon modernization.

Associated Press: Friday's public announcement reflects the government's and its developers' growing confidence in Jian-10, Asia Pacific bureau chief of Jane's Defense Weekly Robert Karniol said.

"It does represent some achievement on China's part. It reflects a growing sophistication," Karniol said.

The plane, however, has yet to prove its ability in combat, he said. Also, in the past China did not have much success with engine development, he said.