President Hu Jintao on Friday urged Iran to give a "serious response" to Resolution 1737 adopted by the United Nations Security Council last December to promote a "long-term, comprehensive and proper" resolution of the nuclear issue.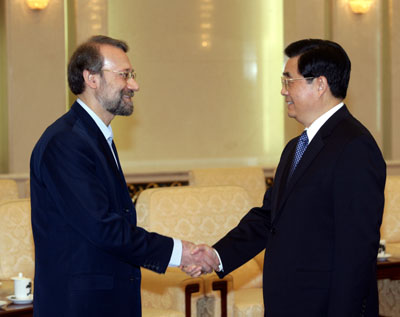 Chinese President Hu Jintao (R) shakes hand with Iran's top nuclear negotiator Ali Larijani at the Great Hall of the People in Beijing Friday, January 5, 2007. [newsphoto]


"The UN Security Council unanimously adopted Resolution 1737, which reflects the shared concerns of the international community over the Iranian nuclear issue, and we hope Iran will make a serious response to the resolution," Hu said during a meeting with Iran's top nuclear negotiator Ali Larijani in Beijing.

Hu's remarks referred to a Security Council vote on December 23 to impose sanctions on Iran's trade in sensitive nuclear materials and technology. It was an attempt on the part of the UN to stop Iran's uranium enrichment work that could produce material used in bombs.

Hu said China has held a consistent position on the Iranian nuclear issue and supported the maintenance of the international non-proliferation system, and peace and stability in the Middle East.

"China still maintains that the Iranian nuclear issue should be resolved through diplomatic negotiation," Hu said.

He also urged the international community to continue diplomatic efforts to push for the resumption of the negotiations.

Larijani, Iran's secretary for the Supreme National Security Council, was in Beijing on a two-day visit as a special envoy of Iranian President Mahmud Ahmadinejad.

At the beginning of the meeting in the Great Hall of the People, he conveyed a message from the Iranian leader to Hu.

Larijani's China trip comes amid Teheran's defiance over sanctions imposed by the United Nations Security Council for its nuclear program.

Treaty principles

He briefed Hu on Iran's position on the nuclear issue, saying Iran attaches importance to developing ties with China.

During the three-hour talks with State Councilor Tang Jiaxuan on Thursday, Larijani said his country is still ready to abide by the principles of the Non-Proliferation Treaty (NPT) and will continue its efforts to seek a just and rational solution to the issue through "equal consultations".

Hu said it is China's consistent policy to develop a long-term, stable relationship of mutual benefit and common development with Iran based on the five principles of peaceful coexistence.

US President George W. Bush said on Thursday that Washington did not see "a peaceful future with the Iranians developing nuclear weapons". But Larijani told reporters on Friday that Iran was only seeking nuclear energy, not bombs.

Also on Friday, the head of Iran's Atomic Energy Organization (IAEO) Gholam-Reza Aqazadeh said in Teheran that Iran's general policy is not to sever ties with the International Atomic Energy Agency (IAEA), Iran's news agency IRNA reported.

Speaking to reporters, Aqazadeh said: "We are to rationally follow up our activities and continue cooperation with IAEA."