Beijing to see a baby boom in 2010
(Xinhua)
Updated: 2006-12-18 14:30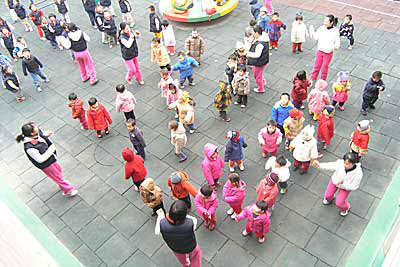 Children from a Beijing kindergarten do outdoor exercises in this file photo.


The two million Beijingers, who are products of single child families, are expected to cause a major baby boom by the end of the decade as they are entitled to have two children.

More than a third of the young couples who were both raised as single children say they will exercise their right to have two babies, causing birth rates in the capital to almost double by 2010, according to a survey by the Beijing Population Research Institute.

Government statistics show that about 78,000 babies are born each year in Beijing. The research institute says there could be 140,000 newborns in 2010.

The survey, recently released at the Capital Population Development Forum, asked more than 1,300 of Beijing's couples aged between 20 and 34, who were reared as only children, about their plans of having babies.

The new government policy is that when a single child marries another single child, the couple is entitled to have two children.

Almost 36 percent of the survey respondents said they want two children. The figure rises significantly from a similar survey four years ago when 19.5 percent said they were planning to have two babies.

Nearly 60 percent of those entitled to have two kids said they would have only one or no children at all.
Beijing has more than two million registered only children.

Wang Guangzhou, a research fellow with the Institute of Population and Labor Economics under the Chinese Academy of Social Sciences, who conducted the survey, said the country's "another baby" policy will cause a peak in birth rates five year earlier than expected. Pervious estimates suggested the baby boom would happen in 2015.

Formulated in the early 1970s, China's family planning policy encourages late marriage, late childbearing and one-child families.

Statistics also show that China's population would be 400 million higher than it is now if the one-child family policy had not been put in place.

China officially announced its population reached 1.3 billion in January 2005.

Most Commented/Read Stories in 48 Hours