SHANGHAI: China seems to be in the middle of a smiling deficit, but one group in Shanghai is doing what it can to turn those frowns upside down.
According to a recent online survey by Extrawhite, a maker of chewing gum, a quarter of the people in China never smile or smile less than five times a day. The survey found that only 2 per cent of Chinese people are willing to smile at strangers.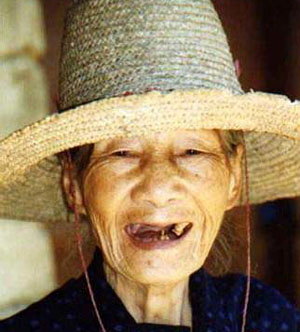 An old woman smiles in this undated file photo.


To reverse this situation, a group of 40 students from the Humanities and Communications College of Shanghai Normal University launched a team of "smiling volunteers" last month. Their technique is simple enough: they smile at people.
They carried out their first "smiling task" on Saturday at the Shanghai Film Art Centre, where they smiled at all the visitors and asked if anyone needed any help.
"We started to prepare for this special team back in October," said Dai Ningning, a teacher at the college who is in charge of the team.
"Wang Shengmin, a member of the Shanghai Municipal Committee of Chinese People's Political Consultative Conference and an alumni of the university, has been urging Shanghai residents to polish their manners. She recently published a book about the importance of good manners. She basically inspired us to create the team."
But the team's work is not all fun and games. Dai suggested that the team's work also had a professional component. "Most of our students will be teachers after they graduate. Smiling is necessary for good teachers. We hope they will learn how to smile at each other properly before they become teachers," she said.
Dai added that she had high hopes for the "smiling volunteers" team.
"The team will recruit more members in the future. We have no special requirements for the students who want to be members of the team. The only requirement is that they have sincere smiles and helping hearts, and are always ready to assist other people," she said.
Xu Xiaohong, a first-grade post-graduate student at the university, leads the team. She said that not all students found it easy to smile all the time.
"We ask all the members to practice smiling when they are at home. We smile at the mirror to determine whether our smiles are acceptable. We not only smile with our mouths, but also with our eyes," she said.
Xu said smiling is a very important part of volunteer work.
"When volunteers help other people, smiling is the best way to make other people understand that the volunteers are ready and sincere," she said. "Smiles can also erase a sense of strangeness among people who do not know each other."
Dai said her team of volunteers would be dispatched to the 2010 World Expo, which Shanghai will host.
"We hope that the team members will not just help the foreign visitors, but will also impress them with their sweet smiles. We hope the members' smiles will make all people who visit Shanghai understand that this city is rather hospitable," Dai said.
(China Daily 12/18/2006 page3)