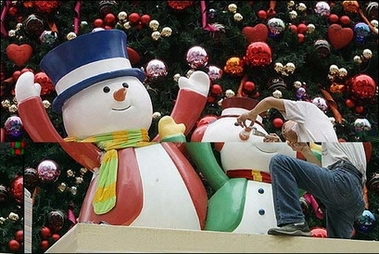 A worker prepares Christmas decorations for public display in the central shopping area of Hong Kong, November 2006. [AFP]

BEIJING - China's consumer prices have picked up speed in November, rising by the largest margin since January, the government said, as the central bank governor called inflation "a matter of concern."

The consumer price index, the main gauge of inflation, was up by 1.9 percent in November from a year earlier, compared with a more modest 1.4 percent rise in October, the National Bureau of Statistics reported Monday.

"There is a possibility of a pick-up in inflation," central bank governor Zhou Xiaochuan told a financial seminar in Beijing. "Inflation is a matter of concern for the central bank."

Even so, analysts said they did not expect the central bank to take any fresh dramatic measures on the basis of one month's worth of inflation data.

"The pick-up in inflation is probably short-term and it won't push the government to adopt any (new) monetary measures just now," said Zuo Xiaolei, a Beijing-based economist with Galaxy Securities.

So far this year the authorities have hiked interest rates twice and bank reserve requirements three times in an effort to cool an economy which grew 10.7 percent in the nine months to November.

All the while, inflation has remained relatively subdued.

However, the November figure was the highest since a similar 1.9-percent rise in January this year, when the figures were distorted by spending for the Lunar New Year, the biggest holiday in China.

If the January statistics are not taken into account, November saw the highest rise in consumer prices since March 2005.

The central bank detected early signs of a rebound in lending last month and had already soaked up funds in open-market operations, argued Gao Shanwen, an economist with Everbright Securities based in Shanghai.

"So the likelihood that the central bank will resort to an interest rate hike soon is limited," he told AFP.

The consumer price index rose 1.3 percent in the 11 months to November, the bureau said in a statement.

Prices for the full year are also likely to rise 1.3 percent, said Ma Kai, the head of the National Development and Reform Commission, reported the state media.

Inflation last month was led by higher prices for food, which still makes up a large proportion of the average Chinese consumer basket.

Food prices rose 3.7 percent in November, with non-food items up just one percent, the bureau said.

Despite China's breakneck growth, inflation is generally considered rather low, the result in part of massive investment in industrial capacity in recent years, ensuring that demand in most product categories can be more than met.

China's central bank said last month that inflationary pressures still existed, with prices of both consumer goods and production materials facing the risk of upward movement.

Reasons given include pricing reforms, meaning consumers will see steadily growing bills for their water, electricity, oil and gas, it said.

Higher crude oil and non-ferrous metal prices in the international market would also push up prices in China.

Finally, local companies would be forced to hike prices to pay for extra costs from safer production routines and the provision of welfare benefits, it argued.