A five-year project will be launched next year to significantly raise condom usage among gays to curb the rising number of HIV/AIDS infections, a top official has said.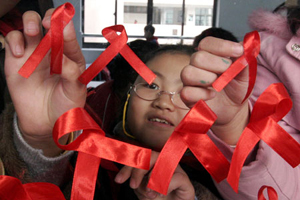 Students at a primary school in Nanjing, Jiangsu Province, display their hand-made red ribbons "an international symbol of AIDS awareness" yesterday on the eve of World AIDS Day. China had 650,000 HIV carriers, including 75,000 AIDS patients at the end of last year, according to the government estimates. [China Daily]


"Prevention efforts among gays will be key to the country's AIDS control. They need collaboration between government departments and grassroots organizations," said Wu Zunyou, director of the AIDS prevention bureau affiliated to the Chinese Disease Prevention and Control Centre (CDC).

The target is to raise condom usage to 70 per cent, said Wu. A survey covering 526 gays in Beijing shows only 20 per cent use protection all the time.

Gay sex contributed to 7.3 per cent of reported infections nationwide, according to the CDC. The main causes are drug users sharing needles and unsafe heterosexual sex.

In the first 10 months of the year, 39,644 people were officially reported to have been infected with HIV, the Ministry of Health said last week. While a total of 183,733 people have been officially reported to have contracted HIV, the ministry estimated the actual figure at the end of last year to be around 650,000.

The ministry also estimates that at least 1 per cent of the country's 5-10 million sexually-active gay people in the 18-49 age group have contracted HIV/AIDS.

Many gays, out of societal pressure, choose to marry women. "This has led to the risk of them spreading the disease to people around them," Wu said on Wednesday during an online interview on www.sohu.com conducted in conjunction with today's World AIDS Day.

Also, the CDC and the AIDS Intervention Centre in Beijing's Chaoyang District will jointly launch a project next year on prevention through peer education among gays. The project will be replicated in five cities every year.

It will record personal information such as age, profession, feelings, health condition, condom usage and reaction towards discrimination.

Under the project, free medical treatment will be provided to gays with sexually transmitted diseases or infected with HIV, and help offered in finding jobs and fighting discrimination.

Starting this month, the Chaoyang District intervention centre will offer free medical checks regularly to gays in Beijing, reportedly home to 300,000 gay people with 3 per cent of them infected with HIV.

To promote safe sex, one of the country's leading condom-makers has launched a custom-made condom for gays.

Tao Ran, manager of Gobon Condom Factory in Guilin, Guangxi Zhuang Autonomous Region, said that the company would employ a special marketing strategy involving gay volunteers and online sales to promote the product.

In addition to these efforts, some AIDS experts see a more tolerant society as a cornerstone for ensuring the mental and physical health of gays.

According to Zhang Beichuan, a professor on AIDS studies at Qingdao University, many free medical projects are shunned by gays because of social discrimination.

"If the governments are more tolerant towards them, the projects will attract more gay people for medical treatment, which in turn will benefit the whole society," said Zhang.

He proposed that legal marriages be allowed among gays and a special law banning discrimination enacted.

A recent survey conducted by Zhang, covering 2,000 gays in nine cities, shows that 60 per cent of them suffer from the fact they are gays; and 10 per cent were so badly affected they wanted to take their own lives.

The reasons for contemplating suicide included broken relationships with gay partners, social discrimination and unhappy marriages with women.