The country's first direct broadcast satellite launched last month is not functioning due to technical faults, its operator confirmed Tuesday.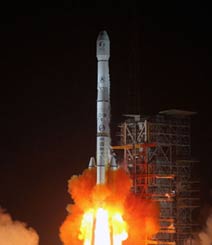 China's first direct broadcast satellite Sinoset 2 blasts off from launch pad in this picture taken on October 29, 2006. [Xinhua]


However, the setback to Sinosat 2 would not jeopardize the country's efforts to develop direct broadcast satellite (DBS) service, Sino Satellite Communications Co (Sinosat) President Cheng Guangren told China Daily.

"The development of direct satellite service will not come to a halt just because one or two satellites fail," the chief of the Beijing-based company said.

DBS service refers to satellite systems through which subscribers receive signals for television, radio and telecommunications directly from geostationary satellites. TV signals are currently received either through relay stations or cable.

After it was launched on October 29 atop a Long March 3B rocket, Sinosat 2 "unfortunately suffered serious technical defects and was unable to deploy its solar panels and communications antennae," the company said in a statement.

"It, therefore, cannot provide broadcasting and telecommunications services," it said.

Despite the failure, Cheng said his company would forge ahead with a plan to launch a company to manage space resources of DBS, and consider launching a satellite to replace Sinosat 2.

The replacement will also be based on the domestically-made Dongfanghong 4 satellite platform, which features a long life and high capacity, he said, adding that no timetable had been set for the launch.

"Sinosat and China Satellite Communications Corp (China Satcom) are well in the process of establishing China Direct Broadcast Satellite Ltd with 50 per cent each," he said.

The company has already won government approval, indicating strong support for the potentially huge DBS service market; and could be formed as early as next month, according to Sinosat sources.

China Satcom is the owner of Chinasat 9, another DBS scheduled for launch in the second half of 2007, which would be placed on the same orbit as Sinosat 2, Cheng said.

The original plan was for Chinasat 9 to join Sinosat 2 both working as each other's back-up to form China's first-generation DBS system, sources from both companies said.

Chinasat 9 is capable of covering almost all Chinese areas, making it possible for at least 98 per cent of residents to receive satellite TV programmes using small dishes, senior engineer Lu Lijin told China Daily earlier.

The ill-fated Sinosat 2 is in its preset orbit and an investigation is being conducted to find the reasons for the malfunctioning, Sinosat spokesman Fan Xingmin said yesterday.

It was designed with a mission life of 15 years to transmit live television and digital broadband multimedia signals throughout China, including Hong Kong, Macao and Taiwan.

The company will launch "Sinosat 3" to provide telecommunications service but not direct-to-home signals.

Long Lehao, chief designer of China's carrier rocket series, said the failure of Sinosat 2, which was based on a new satellite platform, was not totally unexpected because the space industry is a high-risk sector.