HANOI -- APEC ministers accepted Wednesday five model measures on trade facilitation for Free Trade Agreements (FTAs) and Regional Trading Agreements (RTAs), which, along with others, are to be endorsed by APEC leaders later this week.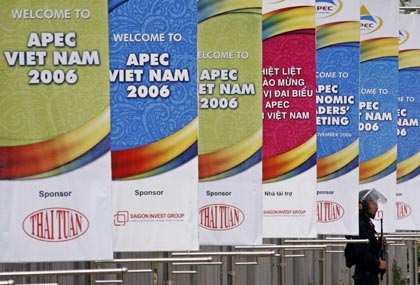 An armed policeman stands guard outside the venue of the Asia-Pacific Economic Cooperation (APEC) Summit in Hanoi November 15, 2006. Cabinet ministers from the Asia Pacific Economic Cooperation forum began talks on Wednesday seeking ways to revive comatose global trade talks and get their own Pacific rim free trade area off the drawing board. [Reuters]


Trade and foreign ministers or representatives at a retreat of the 18th APEC (Asia-Pacific Economic Cooperation) Joint Ministerial Meeting on Wednesday accepted the five model measures, including those on commodity trade, government purchase, technical barriers to trade, transparency and cooperation, Press Secretary of the Ministry of Foreign Affairs of Japan Mitsuo Sakaba told reporters.

The model measure on cooperation involves different kinds of cooperation, including that on capacity building, he said, noting that his country's proposal on the model measure on investment has yet to be accepted.

Under the context that construction of hundreds of FTAs/RTAs are either completed or underway, trade facilitation measures, when finalized, will be beneficial to all economies, especially developing ones as a readily available resource to aid their FTA/ RTA negotiations.

Delegates to the retreat also considered a U.S. proposal on establishing a free trade area of the Asia-Pacific (FTAAP).

Sakaba said the meeting's chair concluded that the possibility of forming the FTAAP will be studied in a long-term basis, and that a feasibility study could be conducted at the APEC 2007 in Australia.

At the retreat, the ministers focused their discussions on ways of resuming the Doha Round negotiations, facilitating RTAs/FTAs, the Hanoi Action Plan to implement the Busan Roadmap, combating terrorism, and reforming APEC.

At the meeting, World Trade Organization Director-General Pascal Lamy updated the delegates on the latest developments on efforts to advance the negotiations.

At the plenary session on Thursday, the ministers are expected to continue their discussions on the issues and some others, including APEC's efforts to overcome corruption and enhance transparency, human security, capacity building and technical cooperation.

Since its inception in 1989, APEC has worked to reduce tariffs and other trade barriers across the Asia-Pacific region and to create efficient domestic economies and dramatically increase exports.