Beijing -- China is considering further tax increases on some unspecified luxury goods after slapping taxes on watches, golf clubs and other high-end items in April, a senior tax official said.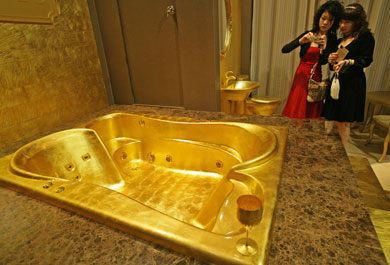 Guests take mobile phone snapshots of a gold bathtub at the 2006 Millionaires' Fair, an invitation only luxury gala, at the Shanghai Exhibition Center. China is the world's third-largest consumer of high-end fashions after Japan and the United States. [Newsphoto/file]


Wang Li, a vice head of China's State Administration of Taxation, gave no details of the timing or scope of the proposed increase.
Related readings:


Luxury brands on scent of Chinese women


40% of Chinese want more luxury tax


China revises consumption tax


Rolls-Royce adding staff to meet China's luxury car demand


For China, a full embrace of luxury

"China will continue to improve its consumption tax system and further raise tax rates on some high-end luxury goods," he told a forum on Tuesday without elaborating.

Wang made only a passing reference to possible adjustments to luxury taxes in a lengthy speech that focused on broad reforms to the country's tax system.

But his words could discomfit western luxury goods firms that are wooing China's small but fast-expanding monied class.

China adjusted consumption taxes in April for the first time in more than a decade to encourage a shift in spending patterns.

It made shampoo and skincare products more affordable for ordinary Chinese but jacked up the cost of running cars with large engines, in keeping with efforts to curb pollution. Tax on yachts also went up.

Switzerland, which says it accounts for 99 percent of all luxury watches imported by China, reacted angrily to a 20 percent tax on high-end watches and lobbied Beijing to change its mind.

Beijing declined, saying the tax applied to local as well as imported watches.

France's LVMH, the world's biggest luxury goods firm, which makes Louis Vuitton bags and Dior perfumes, said at the time it did not expect to be badly affected by the change.

Further tax tweaks were still in the initial planning stages, according to an unnamed finance ministry tax official quoted by the China Business News.