BEIJING - Russian Prime Minister Mikhail Fradkov arrived in China on Thursday for a two-day visit likely to focus on growing energy ties between the giant neighbors.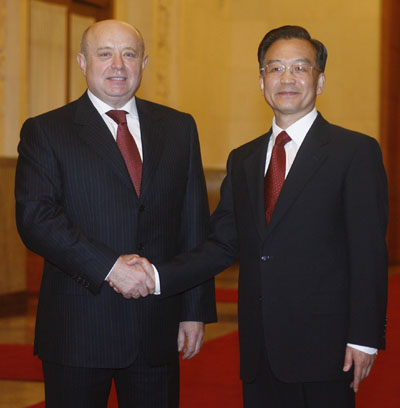 Russian Prime Minister Mikhail Fradkov shakes hands with Chinese counterpart Wen Jiabao before a meeting at the Great Hall of the People in Beijing November 9, 2006. Fradkov will attend the closing ceremony of the "Year of Russia" in Beijing. [Reuters]





Fradkov held talks with Chinese Prime Minister Wen Jiabao and attended the closing ceremony of the "Year of Russia" in China. He was to meet President Hu Jintao and top legislator Wu Bangguo on Friday.

"We exchanged views on Sino-Russian relations in a friendly and frank manner and reached a wide consensus," Wen said, without giving details.

Fradkov said "we have actively cooperated and continue to deepen cooperation in all areas between the two countries."

Energy supplies for the rapidly expanding Chinese economy have become a central issue between the countries. Russian Deputy Prime Minister Alexander Zhukov said in an article he wrote for the state media that "it is important for Russia to bring its energy cooperation with China to a higher technological level, without confining it only to shipments of Russian raw materials."

State media reported Thursday that China and Russia had signed eight agreements, covering sectors as diverse as trade, energy, car production and infrastructure construction. The contracted investment volume from the Chinese side is US$800 million (euro626.17 million).

Xinhua News Agency quoted Chinese Vice Premier Wu Yi as saying at the start of the Sino-Russian Investment Promotion Week that the volume of bilateral trade should hit US$60-US$80 billion by 2010.

Bilateral trade totaled US$29.1 billion (euro22.78 billion) in 2005, and had reached US$24.64 billion (euro19.29 billion) in the first nine months of this year, up almost 20 percent from the same period a year earlier.

In October, Russian state oil company OAO Rosneft said it had set up a joint venture with China National Petroleum Corp. to explore for oil in Russia, with Rosneft holding 51 percent of the company, called Vostok Energy, while CNPC has 49 percent.

The deal marks the latest advance by China to tap into Russia's vast energy resources, and comes after CNPC bought a US$500 million slice of Rosneft's US$10.4 billion midyear initial public offering.

Russia is the world's second-largest oil exporter after Saudi Arabia, while China has accounted for about 40 percent of global demand growth over the past several years.

Also in October, Exxon Mobil Corp. signed a preliminary agreement to sell all the natural gas it exports from Sakhalin island in Russia's far east to the China National Petroleum Corp.

But talks are going on with state-controlled gas monopoly OAO Gazprom, which has a monopoly on Russian gas pipelines, effectively giving it veto power over independent gas projects.

China buys Russian oil and weapons, while Russia's imports of Chinese-made appliances and other consumer goods have been rising.